Going to start this month's newsletter with this stunning photo taken by Jeanie White. It almost looks photoshopped, doesn't it? We were up in the library's 3rd floor Sunflower Room, which put us about level with the flag outside. This photo just gets your heart fluttering like the flag, don't it.
We had a typical (smaller) summer turn-out, with about 15 attendees. It made for a nice relaxed meeting, with plenty of time for extra activities. One of which was a bunch of birthdays on or around this meeting date. Ron Labrecque, a frequent visitor of ours, turned 92. Floyd hit 90, our buddy Pete in Ft. Collins turned 60. Finally, Rick turned 70, but he wanted to do it quietly, so don't tell him I told you about it.
'Will the Circle Be Unbroken', by Ada R. Gabershon, was probably the best group song we've ever done. Steve had an intro for us, and Bill took a lick on his steel pedal. Lots of harmonizing with everybody ending at the same time; it was about as good as it gets. Thanks Rich for bringing that tune!
Mike Clark drove up from Ft. Collins and did an outstanding job (as usual) with his tunes. He even sang one, which was a first.
Just before the meeting, I got a message from Joshua Phillips. He is returning to Denver for work, so he won't be joining us in the future. He was only with us for six months or so, but his tunes were a breath of fresh air. Let's hope he finds a group to brighten up down in Brighton.
Playlist for July 2019
Ron Labrecque, 'Happy Birthday to You', sung by da group.
Rich Ryan, 'Here Comes the Sun' by George Harrison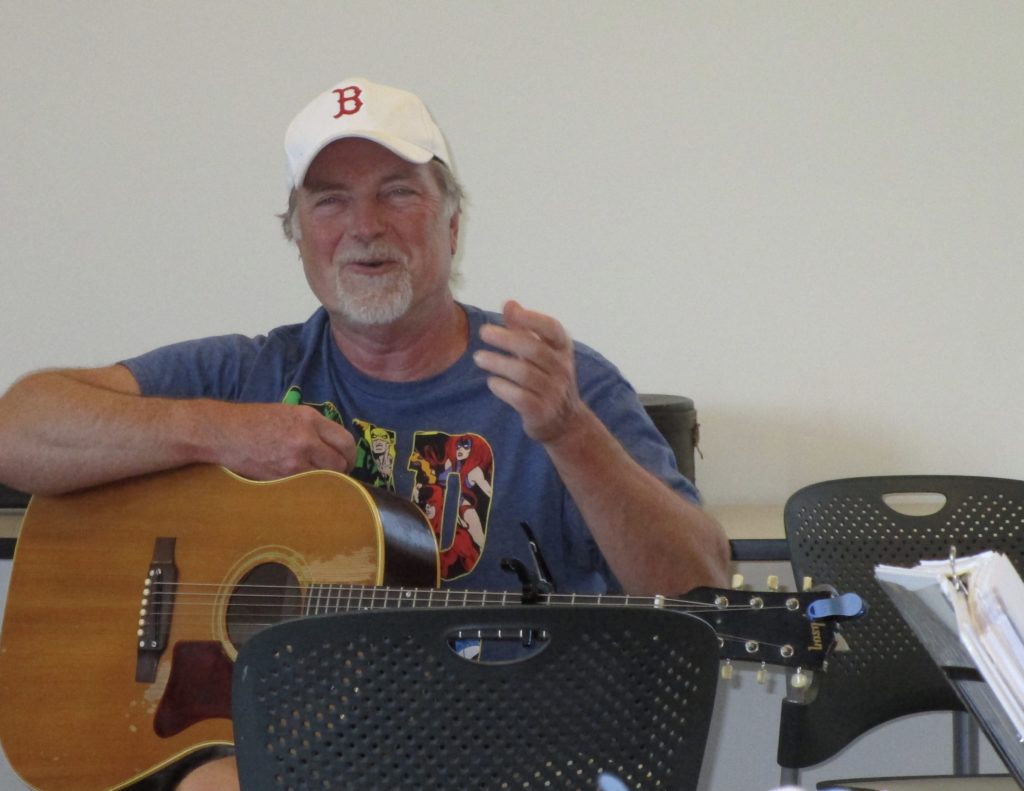 R. Memmel, J. White, N. McKenzie, K. Blaney, 'Stand By Me', by Ben E. King
Jeanie White, 'Desperado', by The Eagles
Keith Blaney, 'Karaoke Queen', original
Ken Frederick, 'April Daze', original
Earl Janack, 'You Can't Unring a Bell', original
Bill Bailey, 'The Choir', by George Strait
Edith Cook, Remy Abeyta, 'Sentimental Journey', by Les Brown
Remy Abeyta, 'Sleep Walk', by Santo & Johnny Farina
Mike Clark, 'Blackbird', by Lennon/McCartney
Gary Krause, 'Leaves', an original tune
Steve Gilmore, 'A Hole in the Day', by Leo Kottke
Group, 'Will the Circle Be Unbroken', by Ada R. Labershon.
Jeanie, Rick, Nancy, and Keith, 'Jolene', by Dolly Parton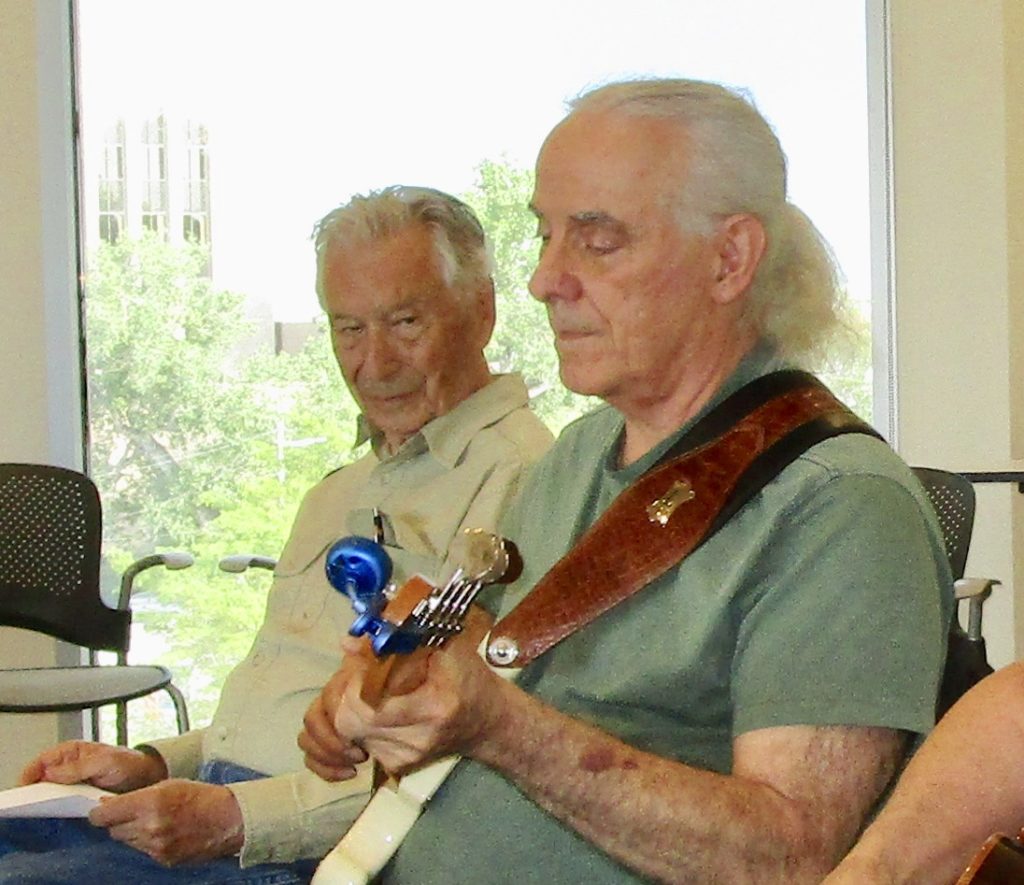 Nancy and Keith, 'Rock Salt and Nails', by Utah Phillips
Ken Frederick, 'Scorpius 300', an original tune
Earl Janack, 'Going Through What I Went Through', original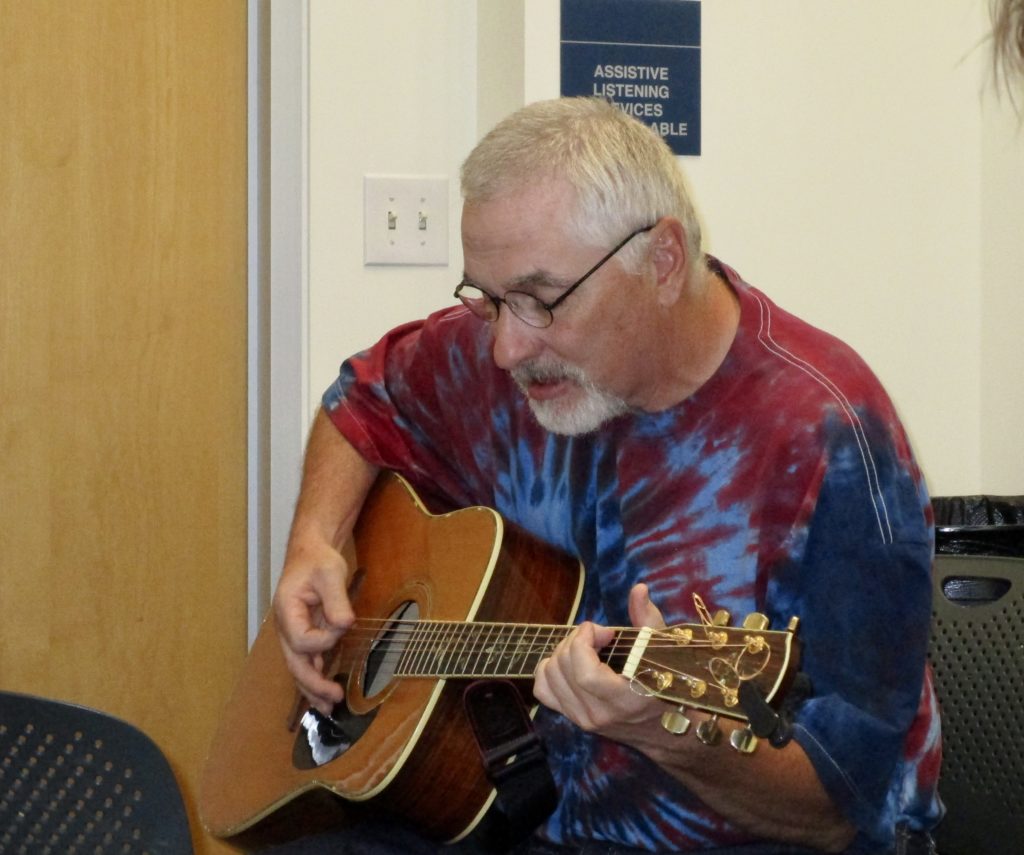 Bill Bailey, 'Time of the Season', the Zombies
Remy Abeyta, 'America the Beautiful', by Katherine Lee Bates
Mike Clark, 'Wicked Game', by Chris Isaacs
Steve Gilmore, 'Last Great Waltz', by Mason Williams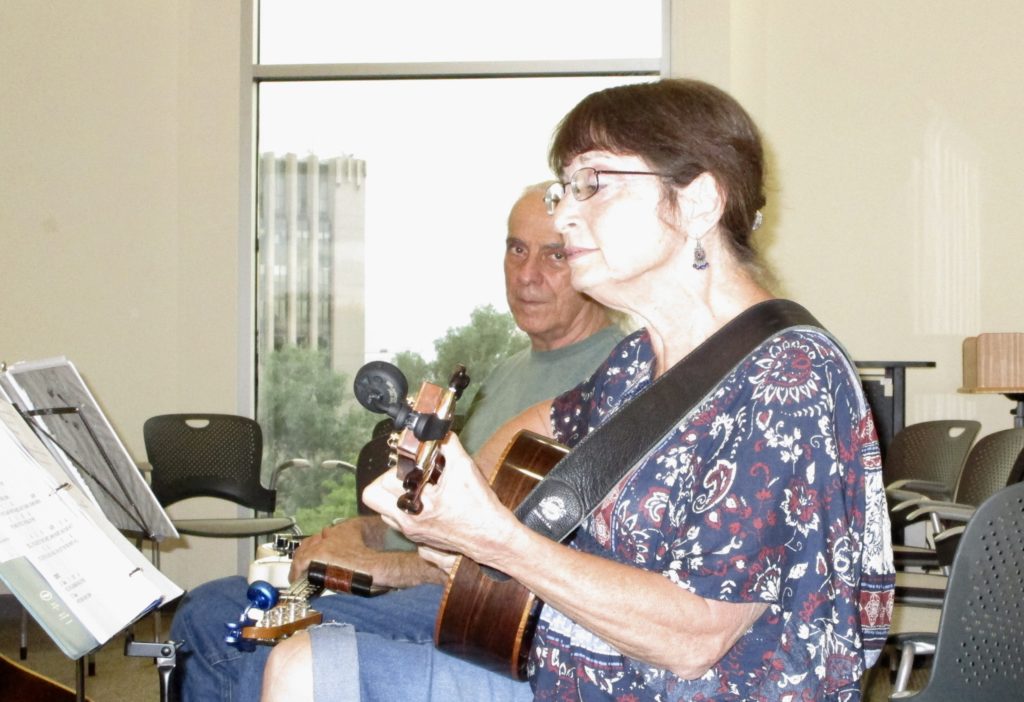 Jeanie White, 'Ring of Fire', by Johnny Cash
Keith Blaney, 'My Road', an original tune
Bill and Rich, 'Cowboy Rides Away', by George Strait
Remy Abeyta, 'Colonel Bogey', (from Bridge Over the River Kwai), by F.J. Ricketts
Mike Clark, 'We Are Gonna Be Friends', by The White Stripes