On the 4th of April, we held our meeting at Justin and Kristy's house; thanks for hosting us! Casper got 26.7″ of snow in the prior 24 hours (WOOF!), but luckily we got a couple feet less than that, so turn-out for our 'Springtime In Wyoming' meeting was pretty decent. Welcome back to Roger Stearns, (pictured above) who last visited 8-10 years ago. And welcome to Kristi AlmaJose, our guest for the first time.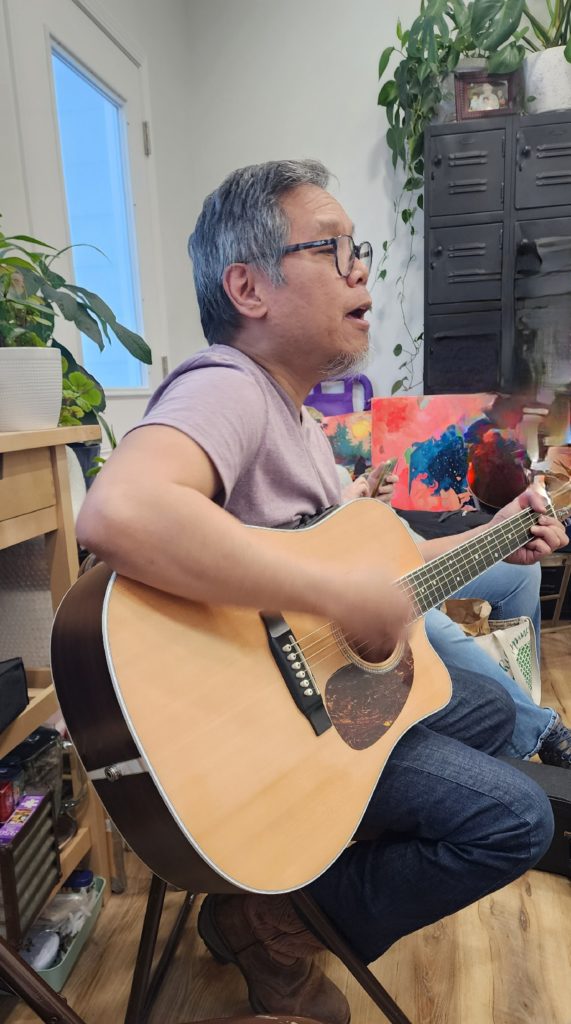 Kristi is in this shot; see her hands holding the phone? Chris is kind of hogging up the frame…
Justin and Kristy built an addition they call the Fun Room, and it was a good fit for our gathering. Kristy (and Nico) also made treats and coffee for us. It was a fun, relaxed atmosphere, a most pleasant meeting.
While we didn't have a group song per se, Roger invited us all to play along with him so it was just as good! Photo credits this month go to Nancy McKenzie.
Playlist for April 2023
Ken Frederick, 'While My Guitar Gently Weeps', George Harrison.
Keith Blaney, 'As Time Goes By', Herman Hupfeld.
Chris AlmaJose, ' '39', Queen.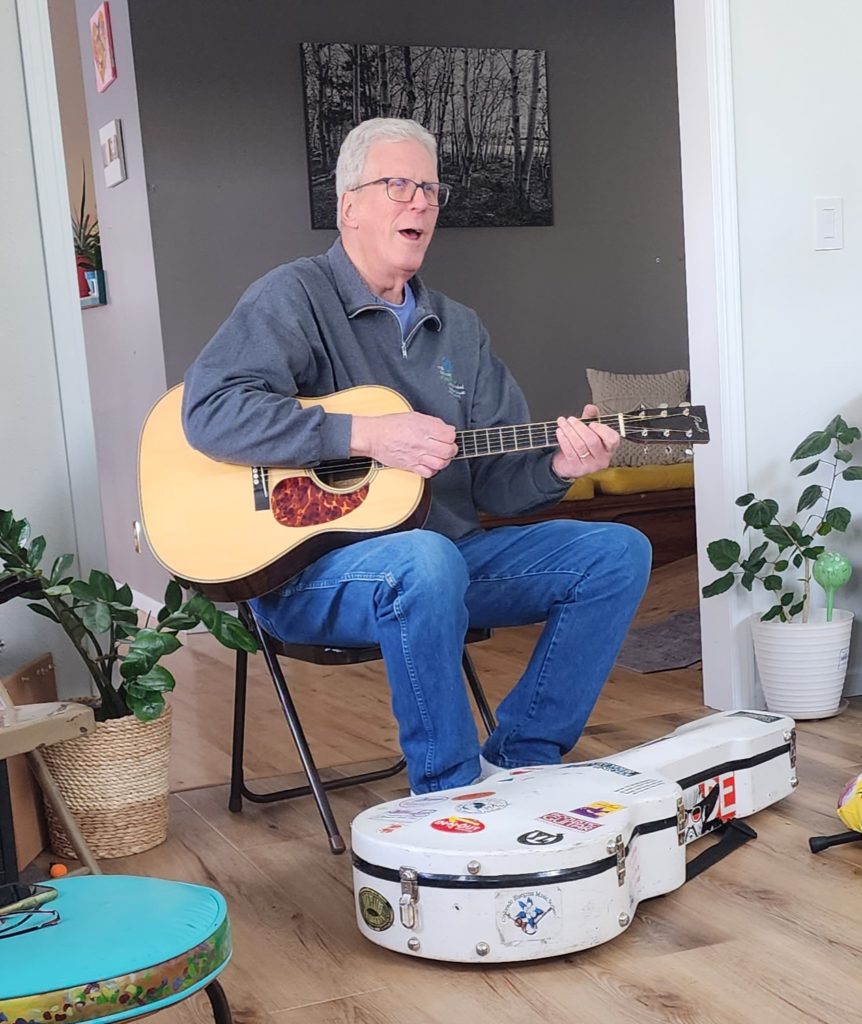 Steve Gilmore, 'Curb Service', HiLo's.
Ernie Brazzale, 'You Belong To Me', Chilton Price/Redd Stewart/PeeWee King.
Justin Johnson, 'San Francisco Bay Blues', Eric Clapton et al.
Russ Williams, 'Cantabile', Simone Cannarelli.
Roger Stearns, 'You Plant Your Fields', New Grass Revival (Donny Lowery, Wendy Waldman).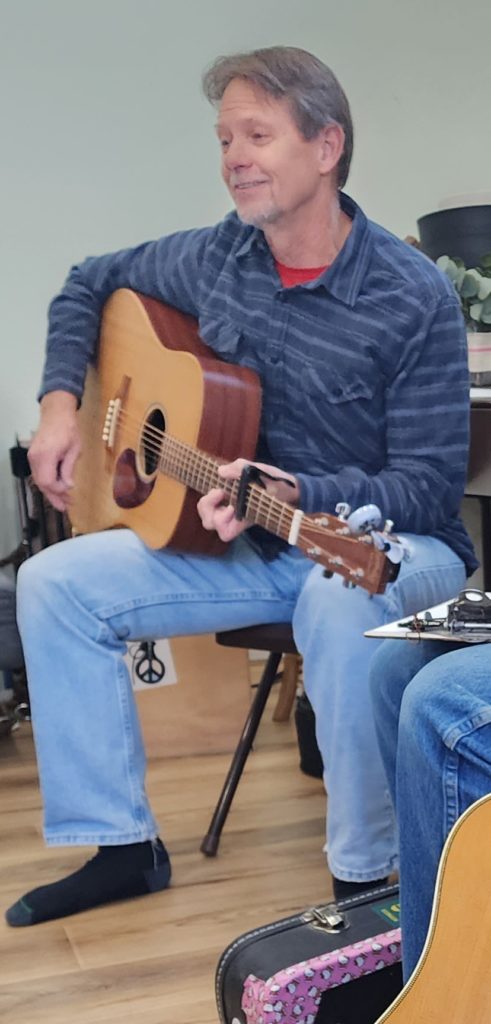 Ken Frederick, 'You Are My Love', original.
Nancy McKenzie/Keith Blaney, 'Rockin' With the Rhythm of the Rain', The Judds.
Chris AlmaJose, 'One Day at a Time', original.
Steve Gilmore, 'Pray For Rain', John Lowell.
Ernie Brazzale, 'Over the Rainbow', H. Arlen.
Justin & Kristy, 'Chaos and Clothes', Jason Isbell.
Roger Stearns, 'Sing Me Back Home', Don Williams.
Ken Frederick, 'Sqwaggy Sqwiggy', original.
Keith Blaney, 'Straight Up', Elliot Wolff (Paula Abdul).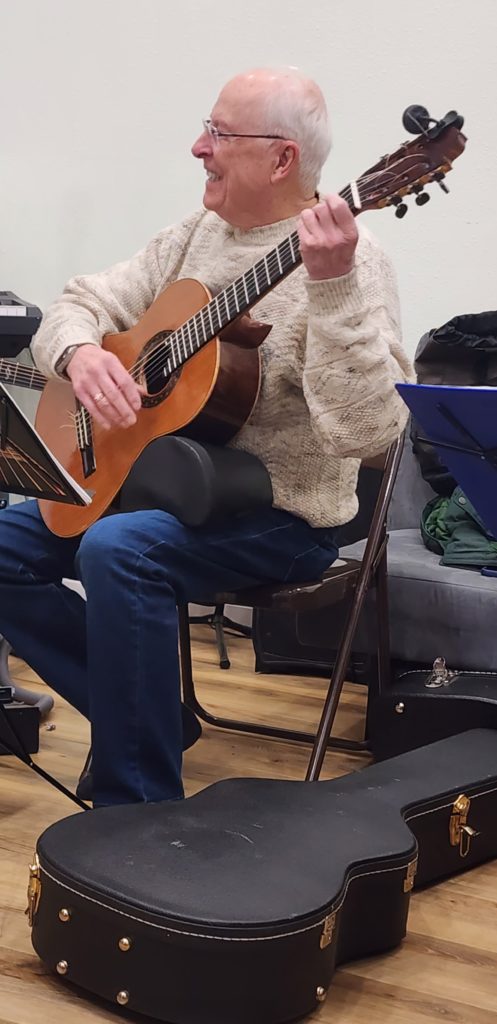 Russ Williams, 'That's All', Allen Brant/Bob Haynes.
Chris AlmaJose, 'Shooting Star', Bad Company.
Steve Gilmore, 'Ramblin' Fever', Merle Haggard.
Ernie Brazzale, 'If', Bread.
Upcoming Events
Raphael Feuillatre from France will be in town for a performance and master class later this month. The Master Class will be held April 24th, 1:30pm at LCCC in room 139 of the Fine Arts Building. $35 for players, $10 to audit, free for students and their instructors.
Concert will be April 27th, 6:30 pm, in the Cottonwood Room at Laramie County Library. Admission is free, seating limited to about 200. These events arranged by Cheyenne Guitar Society in concert with Laramie County Library and the LCCC Foundation.