Be forewarned! I intend to lie more than usual in this episode of the CGS newsletter. So get out your hip boots and B.S. detectors, you're going to need them.
Twenty stalwarts attended our March gathering in the library's Sunflower Room. Christine Cousins was back after a long absence. She was competing in the Great American Baking Show & Chili Shoot-Out in Branson, MO. Her chili cheese cake muffins were a crowd favorite.
Bill Bailey brought an instrument we haven't seen him drag out in awhile, a tri-cone resonator guitar (commonly referred to as a National guitar). It's like calling a tissue a Kleenex; Bill assured us this instrument was not made by National OR Kleenex, though he could not tell us exactly who made it.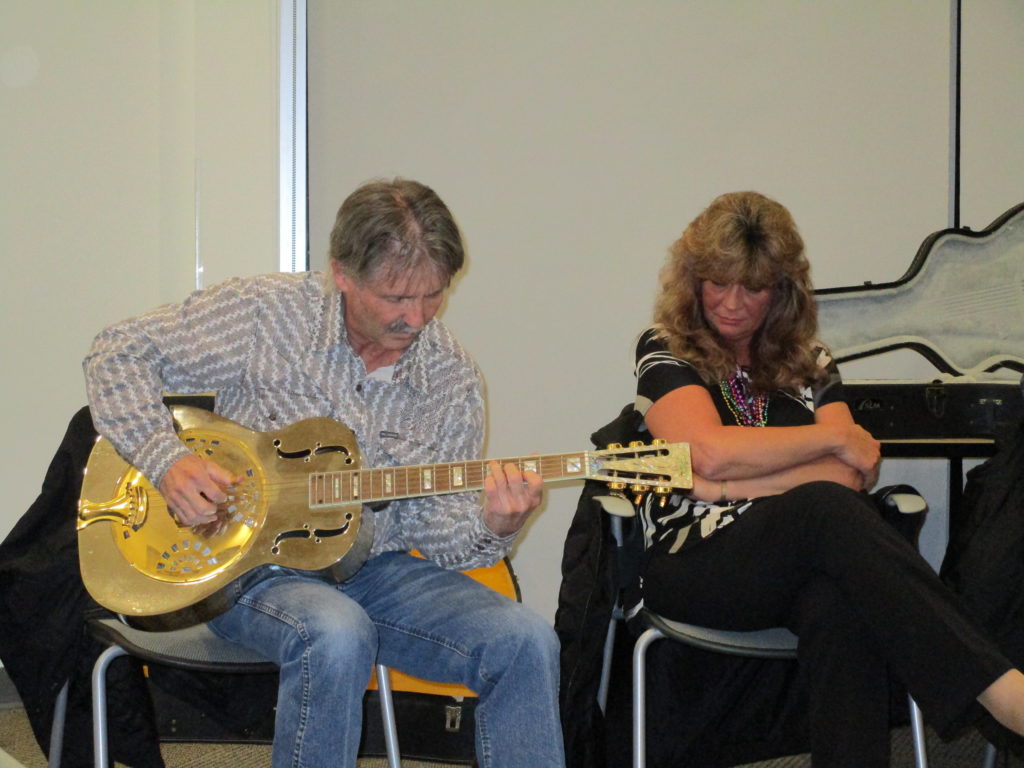 Steve Gilmore will be on a working vacation next month, his band High Plains Tradition will be working the pubs and alleys in Ireland for a few weeks. Meanwhile, his son Martin will make a trip up to Cheyenne with his trio on the 29th of March, for a free concert at the Laramie County Library. Martin's been writing some new songs lately and he's pretty good at it. When I'm sure about the time of the show, I'll ping you all again with the details.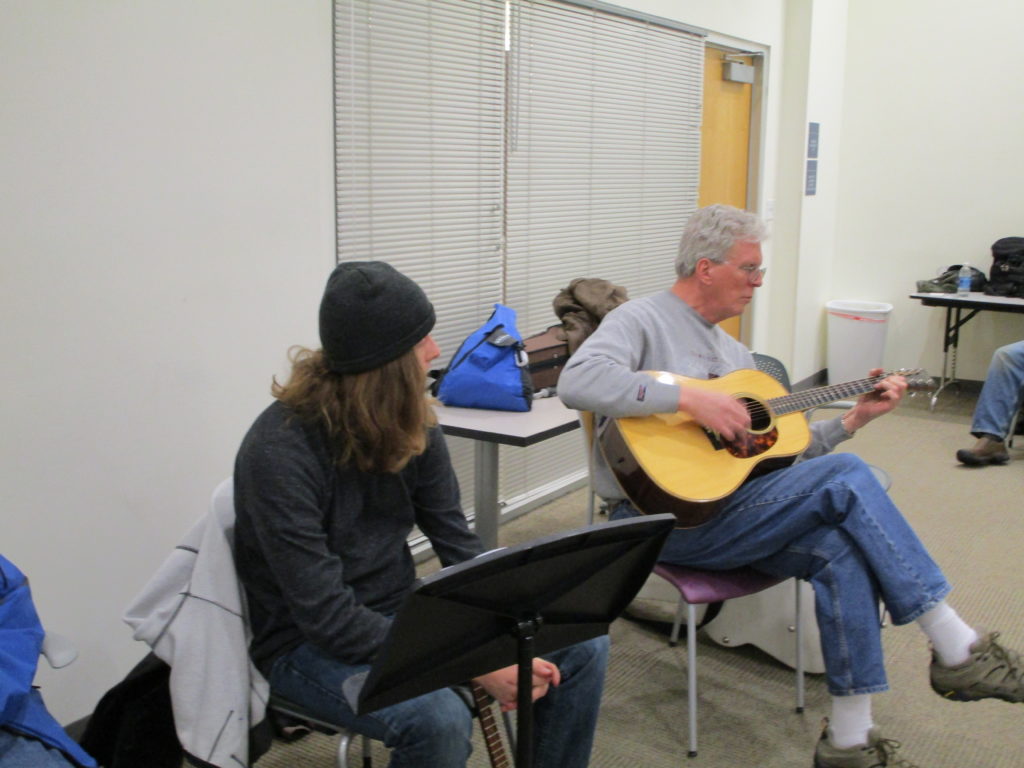 Group song was an impromptu version of the Eagles 'Peaceful Easy Feeling'. It went so-so, which is pretty good given the circumstances.
One last tidbit before we move on to the playlist. Here's an absolutely stunning picture of Bob Seger at a recent concert here along the front range. He's waving and saying thank you to one of our mandolin players who wishes to remain anonymous. I don't know if she sat in for a song or opened for Bob or what, but she managed to snap this picture on stage just before he came over and gave her a big hug.
Playlist for March 2019
Keith Blaney, 'Harvest Moon' by Neil Young
Joe Larsen, 'Balalaika Tune' original
Steve Gilmore, 'Standing on the Outside' by Leo Kottke
Earl Janack, 'It's Us Bein' We', original
Ernie Brazzale, 'This Masquerade', by Leon Russell
Bill Bailey, 'Coney Island Cakewalk', unknown
Ken Frederick, 'Super Moon', original
Nancy McKenzie, 'Will You Walk With Me', Anne & Pete Sibley
Christine Cousins, 'Emerald Clover', original
Ed Heffern, 'Shake Sugaree', Elizabeth Cotten, arranged by Rhiannon Giddens.
Rich Ryan, 'The Wind Cries Mary', by Jimi Hendrix
Marvin Frerich, 'Jamaican Farewell' traditional
Joshua Phillips, 'Fire Away', by Chris Stapleton
David Norby, 'You'll Never Leave Harlan Alive', by Darrell Scott
Keith Blaney, 'Country Road', by James Taylor
Joe Larsen, 'Kalinka', by someone in Russia
Group, 'Peaceful Easy Feeling' by Doug Frye
Earl Janack, 'Amalgamated Conglomeration Inc.' original.
Ernie Brazzale, 'And the Ewe', by Horn E. Ram. That is not what he played, but it is what he wrote.
Bill Bailey, 'Stagger Lee', by Mississippi John Hurt
Ken Frederick, 'Cancion De Pasta Primavera', original
Marvin Frerich, 'Blowin' in the Wind', by Bob Dylan
Ed Heffern, 'Lemon Tree', by Peter, Paul, and Mary
Rich Ryan, 'Can't Find My Way Home,' by Steve Winwood.
Nancy McKenzie, 'Back to the Cross', gospel traditional
Christine Cousins, 'Smooth', by Santana featuring Rob Thomas.
Joshua Phillips, 'Interstate Love Song', by Stone Temple Pilots
David Norby, 'It's Too Late', by Carole King