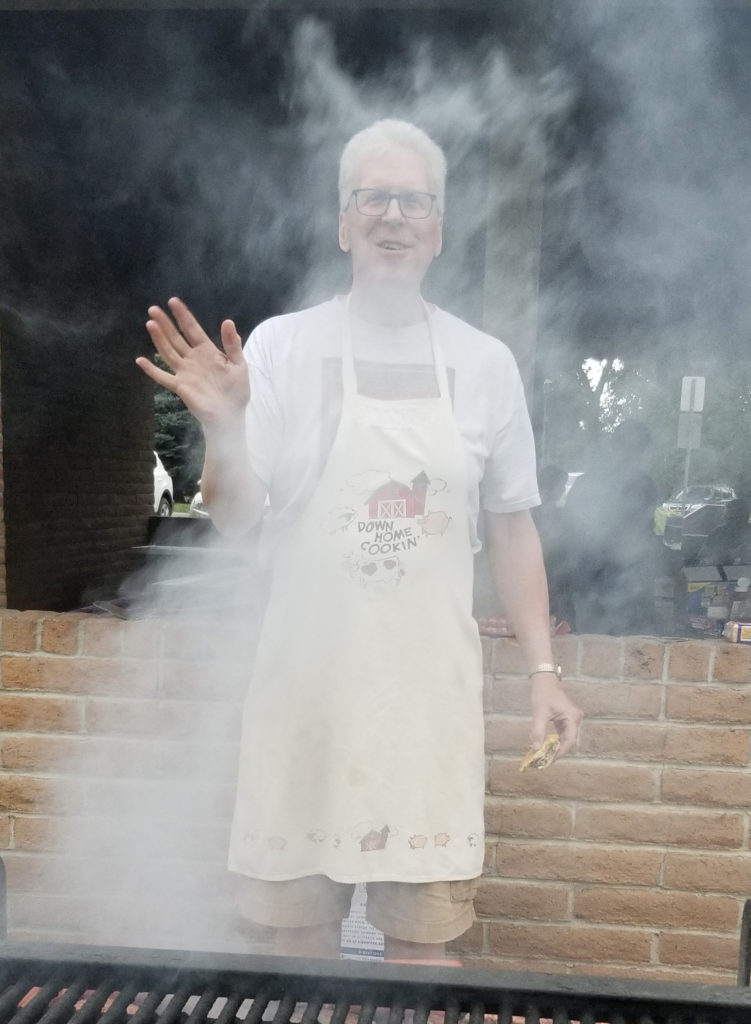 After a long string of 90* plus days, our August 1st picnic started out overcast and very cool. But the clouds broke, throwing long shadows as the sun set, resulting in some great photos by Rich and Nancy.

Thanks to Steve for manning the grill, and everyone that brought side dishes. Also a special thanks, and WELCOME to Linda Stearns, who brought several sides and many table covers. Really spiffed the joint up!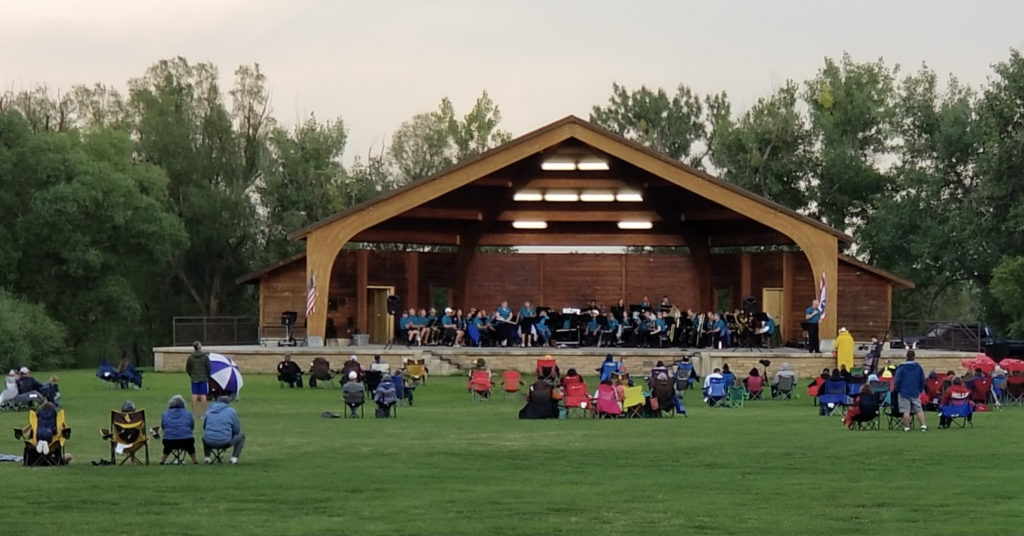 Once we started playing, we ran in to some stiff competition from the nearby band shell. From a distance, it looked like the East High School Concert Band. They gave us a run for our money at times.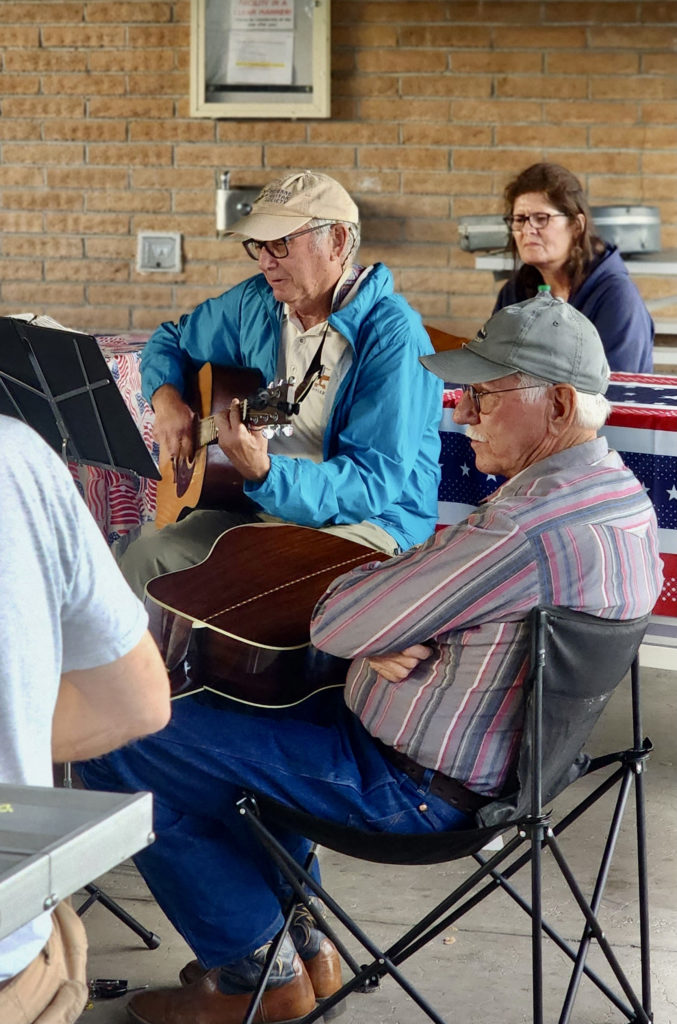 Two things I enjoy most about the picnic are the great pictures, and the many guests we always have. Bret Ross, Brian Andreas, Linda Stearns, Maria Means, Barb Williams, and Judy Heffern. One fellow, Chad Lerwick out of Casper, just saw us setting up and getting guitars out, and asked if he could stick around to listen. Absolutely! and that he did.
It also brought out Gary Krause, whom we haven't seen in awhile. He's got a carbon fiber ukulele these days that is pretty cool.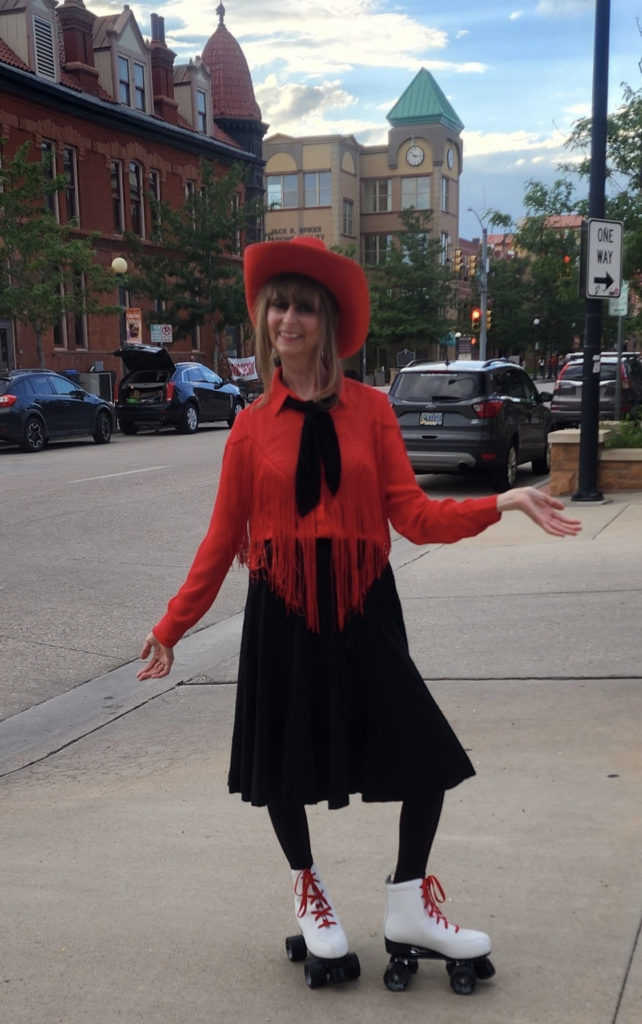 Nancy was able to join us after a very busy Frontier Days. She played over a dozen gigs at six different venues. Woof. Notably absent was our friend Remy, who had his 85th birthday on the previous Sunday. His house was still full of friends and family, so he couldn't sneak out on Tuesday. Happy Birthday, buddy!
Playlist for August 2023
Steve Gilmore, 'On the Outside Looking In', Tim O'Brien.
Roger Stearns, 'Dump That Chump', Little Charlie & the Nightcats.
Keith Blaney, 'I'm An Old Cowhand', Johnny Mercer.
Ken Frederick, 'All I've Got To Do', the Beetles.
Justin Johnson, 'Like a Stone', Chris Cornell.
Russ Williams, 'Afro Cuban Lullaby', Leo Brouwer.
Gary Krause, 'Catch the Wind', Donovan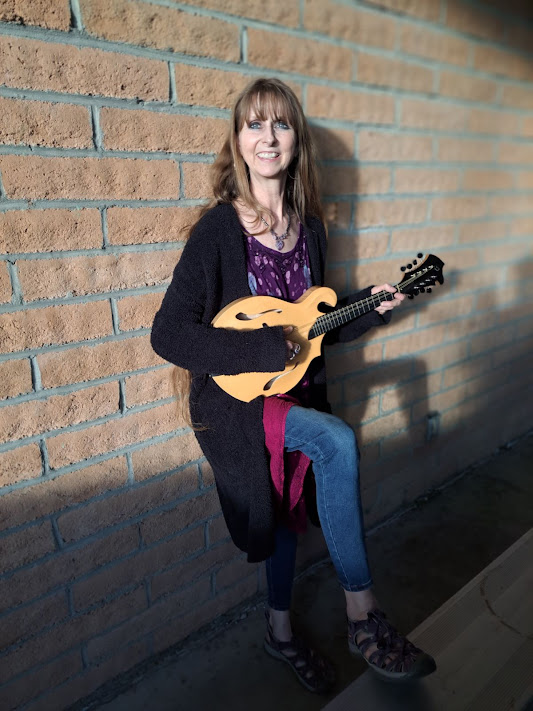 Nancy McKenzie, 'Sally Goodin', traditional.
Ed Heffern, 'Volcano', Jimmy Buffet.
Rich Ryan, 'Mellow Yellow', Donovan.
Steve Gilmore, 'Still Feeling Blue', Gram Parsons.
Ken Frederick, 'Here Comes the Sun', George Harrison.
Keith Blaney, 'Miss Celie's Blues', Quincy Jones/Rod Temperton.
Gary Krause, 'Moonlight Bay', Percy Wenrich.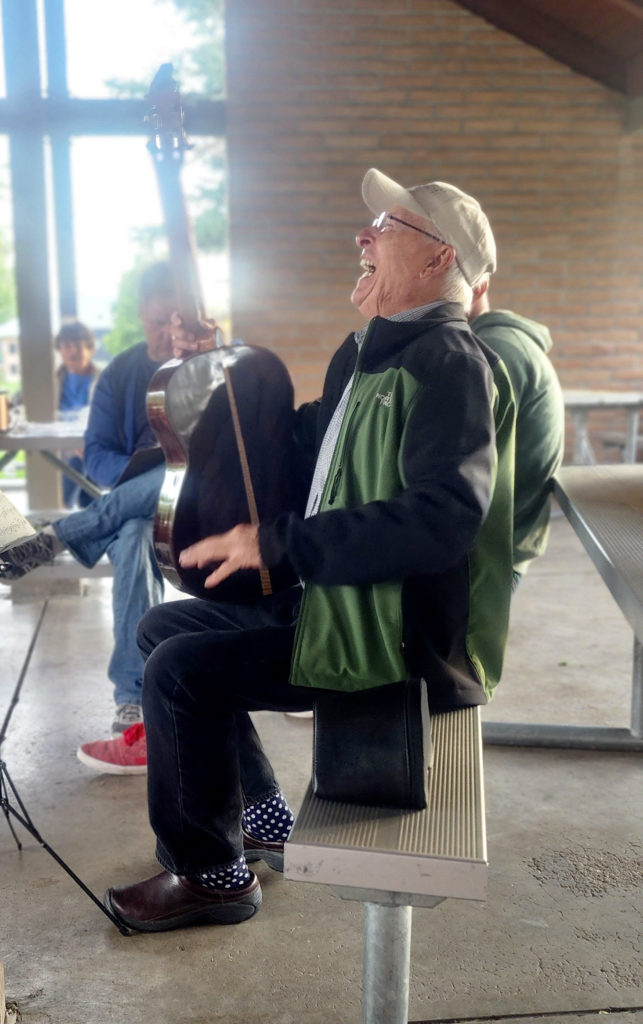 Russ Williams, 'Windmills of Your Mind', Michel LeGrand.
Nancy McKenzie, 'The Girl I Left Behind Me', English folk song.
Ed Heffern, 'Song of Wyoming', Kent Lewis.
Roger Stearns, 'Killing Time', Clint Black.
Rich had a Clint Black tune as well, but it didn't get listed.
Upcoming Events
On August 19th, High Plains Tradition will be playing for the Riverside Town party, starting about 5pm at their 'fairground'. Riverside is just a touch north of Encampment, on State Road 230. High Plains Tradition plays the world over, and they really put on a great bluegrass show. Catch them when you can!