'Tis the season for a good turn-out! Welcome to Mason McTell, who played some great original tunes plus one from Big Bill Broonzy. Fresh stuff all around. Also long time-no see, and a big WELCOME BACK to Nancy McKenzie, owner of the above pictured well travelled case and Mandy Lynn, the lady who lives therein.
Barb Williams and Linda Norby both brought cookies. Linda claimed it was a secret ingredient that made them so tasty. Even before we got the thumb screws out (ok, they were really capo's) David was singing like a canary, divulging the secret.
Roland let us know that the hospital in town would like volunteers to play music in their lobby. To find out more, contact 307-633-7513, and talk to whoever answers the phone.
The big news this night: Rick and Cathy Memmel will be moving to Delaware early next year. Kids and grandkids will be driving distance instead of a long flight away. Rick has been a stalwart with Guitar Society for many years, his hard work will be greatly missed.
Playlist December 2022
Roland Peterson, 'If Santa Clause…', Ted West & Hugh Cross.
Rick Memmel + Ed Heffern, 'Noel' (Christmas Dinner), Paul Stookey.
Mason McTell, 'Colorado Girl', original.
Steve Gilmore, 'Hallelujah, Hear the Angels Sing', Martin Gilmore.
David & Linda Norby, 'White Christmas', Irvin Berlin.
Keith Blaney, 'The Christmas Song', Mel Torme.
Nancy McKenzie, 'Oh Beautiful Star of Bethlehem', R. Fisher Boyce.
Russ Williams, 'Have Yourself A Merry Little Christmas', Hugh Martin & Ralph Blane.
Rich Ryan, 'O Holy Night', traditional, arr. McGowan.
Group Song (and cookie break) 'Jingle Bells', James Pierpont, published 1857.
Roland (for his second tune), 'Angel From Montgomery', John Prine.
Ed & Rick, 'The Gift', Stephanie Davis.
Mason McTell, 'Burn Down The Wal-Mart', original.
Steve Gilmore, 'Marvelous Toy', Tom Paxton.
David & Linda Norby, 'Walk Right Back', Everly Brothers.
Nancy McKenzie, 'Christmas Times A Comin', Bill Monroe.
Keith Blaney, 'I Still Write Your Name In The Snow', Chet Atkins.
Russ Williams, 'Auld Lang Syne', traditional.
Rich Ryan, 'Mr. Grinch', Dr. Seuss & Albert Hague.
Mason McTell, 'Life of John', original.
Steve Gilmore, 'Teardrops Will Kiss The Morning Dew', Paul Craft.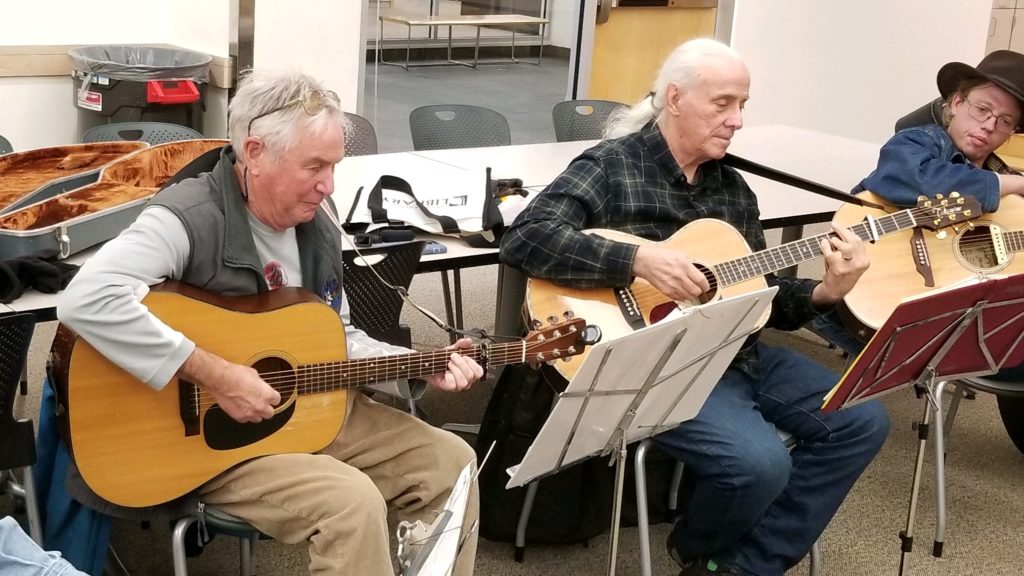 Rick & Ed, 'Holly Jolly Christmas', Johnny Marks.
David Norby, 'Red Nose Friend' (aka Red Neck Friend) Jackson Browne parody by David.
Mason McTell, 'Key to the Highway', Big Bill Broonzy.
Credits
Rick brought the group song, Linda and Barb brought the cookies. Photos by Rich Ryan and Rick Memmel.