Today is Friday the 13th, and a beautiful day it is, too!  Bill contacted me yesterday, and said that his report of the September meeting was just a rough draft.  It was irresponsible to use (and post) it without correction.  So consider it gone!  Like they tell juries,  it is stricken from the record, so disregard what you read.  Perhaps a corrected version will be forwarded, at which time I will republish the September meeting notes.  I will leave the pictures and playlist for now, so feel free to skip this part if you want to get to the meat and potatoes of the meeting.
In the interim, I would like to bore you with my take on the newsletter.  It has been suggested that the newsletter should be considered a 'historical document', and contain only the facts.  As editor, I write the first portion of the newsletter as entertainment; I have never thought the truth should interfere with a good story.  If you read this 'rag', you know that to be so.
That said, the PLAYLIST, on the other hand, is as factual as possible.  Not all entries are legibly written.  When I remember at the meetings, I will fill those in with my own scribbles that I can later read.  I will also research who wrote the song if it wasn't on the playlist.  So if you are interested in "just the facts, ma'am",  start on the playlist.  Because let's face it, that's what really happens at the monthly meetings.  Events are listed elsewhere in the website.  That first bit is my cock-eyed interpretation of my cock-eyed observations, occasionally with a sprinkling of humor.  Skip it if it offends your sensibilities.
Playlist for September 2019
Christine R. Cousins started the music off with 'Gold Dust Woman' by Stevie Nicks.
Ed Heffern, 'Oh What a Beautiful Morning', by Rogers & Hammerstein
Rich Ryan, 'I'll Be Back', by Lennon & McCartney
Remy Abeyta, Los Ojus De Pancha, traditional
Earl Janack, 'What You See…', original
Marvin Frerich, 'Jamaican Farewell', traditional tune sung by Harry Belefonte?
David Norby, 'Bus Stop', the Hollies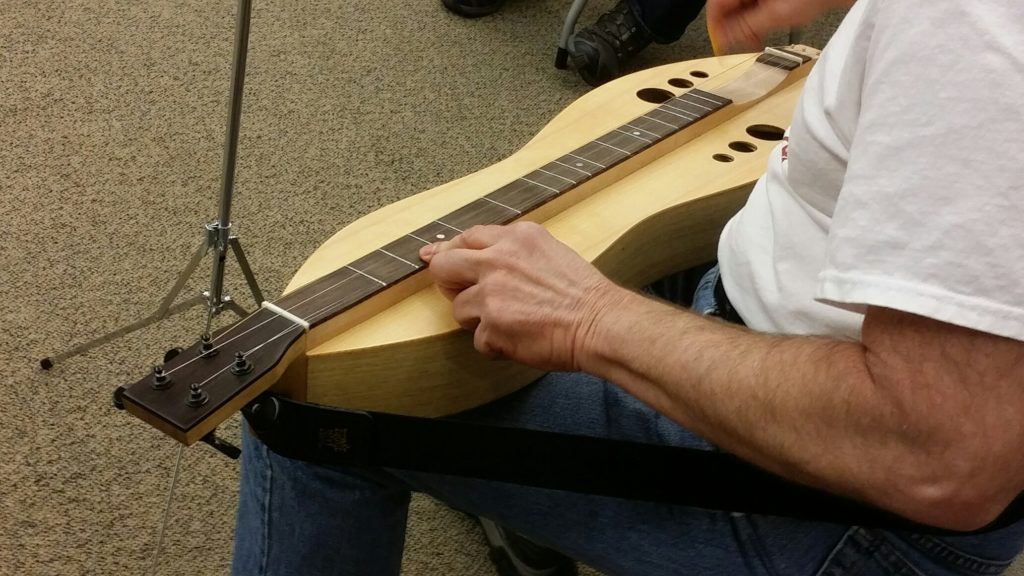 Gary Krause, 'Nut Factory Shuffle', by Gil Anderson
Christine R. Cousins, 'Skipping Rocks', original
Ed Heffern, 'Wayfaring Stranger', traditional
Rich Ryan, 'Baby Blue', by Bad Finger
Remy Abeyta, 'Begin the Beguine', by Cole Porter
Earl Janack, 'Dido dot dot dot', original
David Norby, 'Different Drum', by Michael Nesmith
Gary Krause, 'Guardian Angels and Spirit Guides', original
Christine R. Cousins, 'Reese's Rainbow', original
Ed Heffern, 'Wish You Were Along', original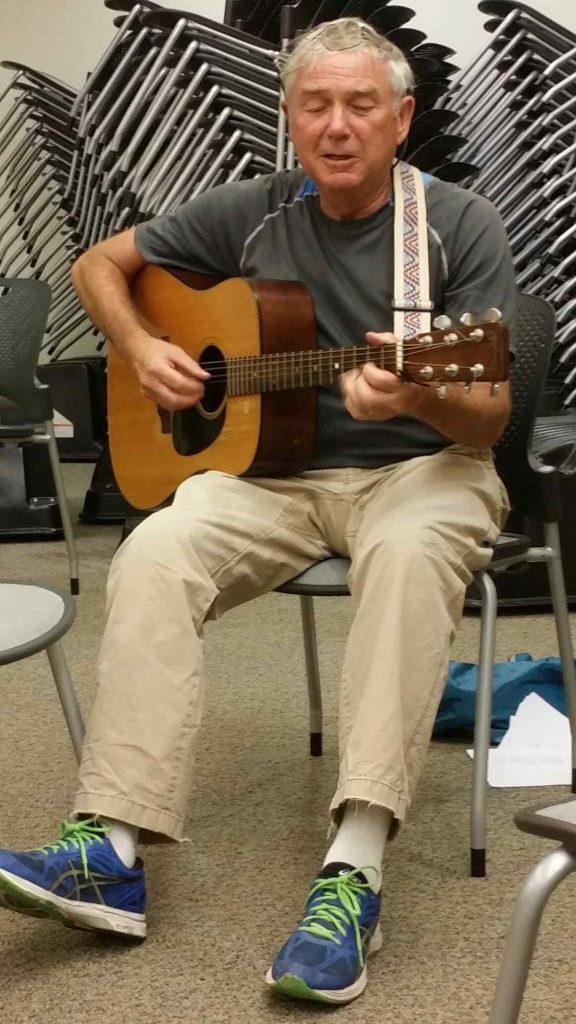 Rich Ryan, 'Country Road', by James Taylor
Remy Abeyta, 'Soft Summer Breeze', by Eddie Heywood
Earl Janack, 'Amalgamated Conglomeration Inc.' an original tune.
Marvin Frerich, 'Where Have all the Flowers Gone', by Pete Seeger
Christine R. Cousins, 'Calm Before the Storm', original
David Norby, 'Good Time Charlie', by Danny O'Keefe
Ed Heffern, 'Times They Are A Changin', by Bob Dylan
Rich Ryan, 'Chicago', by Crosby, Stills, Nash and Young.
Also attending tonight's meeting; Steve Gilmore, Floyd Turner, Bob Fontaine, and Brian Andres. (spelling corrected by editor)