Happy New Year! Our meeting on January 4th was held in the library's Cottonwood Room. We had a nice, albeit small group. Welcome to Tifanne Gerber, who tagged along with Steve and added some vocals. AMAZING vocals, I might add; she's got quite a set of pipes! Welcome to you Tiffane, please come back again!
Both Roland and Russ sang for us, and Roland brought a guitar with steel strings, the first time I can recall that happening. With the small group we had, we didn't mess with elections or such. However, dues were collected and we talked about the most excellent show by Sean McGowan and Martin Gilmore at the Surburgg/Prentice Auditorium from last month.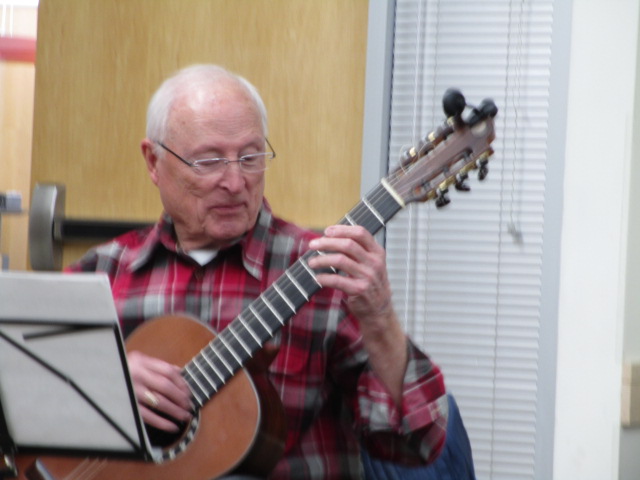 The library's 'One World Prairie Guitar Contest' is next Saturday, January 22nd. There are new categories, with other stringed instruments invited, and higher prize rewards out to 4 places. Contest held during the day, with the winner's performance the same evening. Admission is free to the public, and you can still enter to compete! More information is available on the Laramie County Library website.
Our 24th Valentines Romance dinner/concert will feature Johan Smith from Switzerland, the 2021 Guitar Foundation of America (GFA) International Competition winner. Dinner and concert we be held on Feb 14th out at LCCC. More information on this event will be in your inbox within the next few hours.
Playlist for January 2022
Roland Peterson, 'Blue Eyes Crying In The Rain', Fred Rose.
David Norby, 'Darlin', Beach Boys.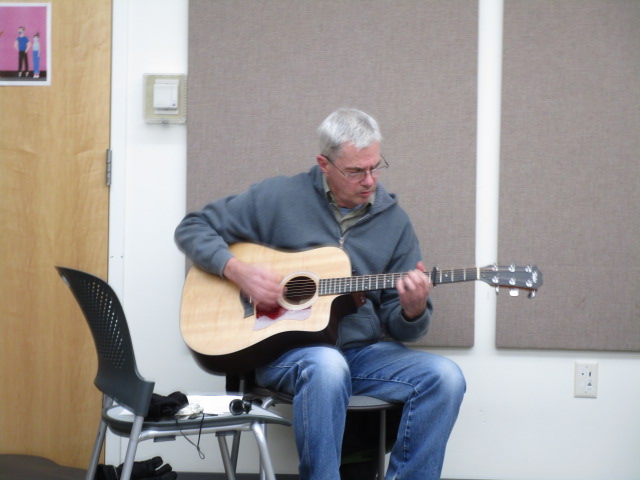 Jordan Evans, 'Quite Early Morning', Pete Seeger.
Rich Ryan, 'Never Going Back Again', Lindsey Buckingham.
Keith Blaney, 'I Still Write Your Name In The Snow', Chet Atkins.
Steve Gilmore, 'Dress Rehearsal', Jody Adams.
Russ Williams, 'Walzer,' Nikita Koshkin.
Roland Peterson, 'Gulf Coast Highway', Nanci Griffith.
David Norby, 'Angie Baby', Helen Reddy.
Jordan Evans, 'IRA', Nick Shoulders.
Rich Ryan, 'Blackbird', Paul McCartney.
Keith Blaney, 'You've Got A Friend', Carole King.
Steve Gilmore & Tiffane Gerber, 'Steel Rails', Allison Krause.
Russ Williams, 'Christmas Valentine', Jason Mraz/Ingrid Michaelson.
Jordan Evans, 'Long Violent History', Tyler Childers.
Rich Ryan, 'Tears In Heaven', Eric Clapton.
Keith Blaney, 'Wonderful World', Sam Cooke.
Steve Gilmore & Tiffane Gerber, 'Every Day', Buddy Holly.
Russ Williams, 'Cayatina', Stanley Myers.
Also in attendance was Rick Memmel.