Just a half dozen of us had the library's Cottonwood Room all to ourselves. It was still a most pleasant gathering, with plenty of time for stories, jokes, and giving each other a hard time.
Remy had me as a backing track for one of his tunes. We did Joseph Kosma's 'Autumn Leaves' together. It was a tricky piece to play, with a bunch of cool jazz chords, but it was worth the effort. We did a presentable job of it; thanks Remy!!!
Russ sang one; Russ has been singing more often this year. Remy sang one, and played an original tune as well, both were a first for our group. Thanks Remy! David brought us a few songs we haven't heard in awhile, as is his custom. T'was a very nice, low key meeting. That said, here's hoping we have more folks show up for our December gathering and it's a bit more chaotic…
Playlist for November 2021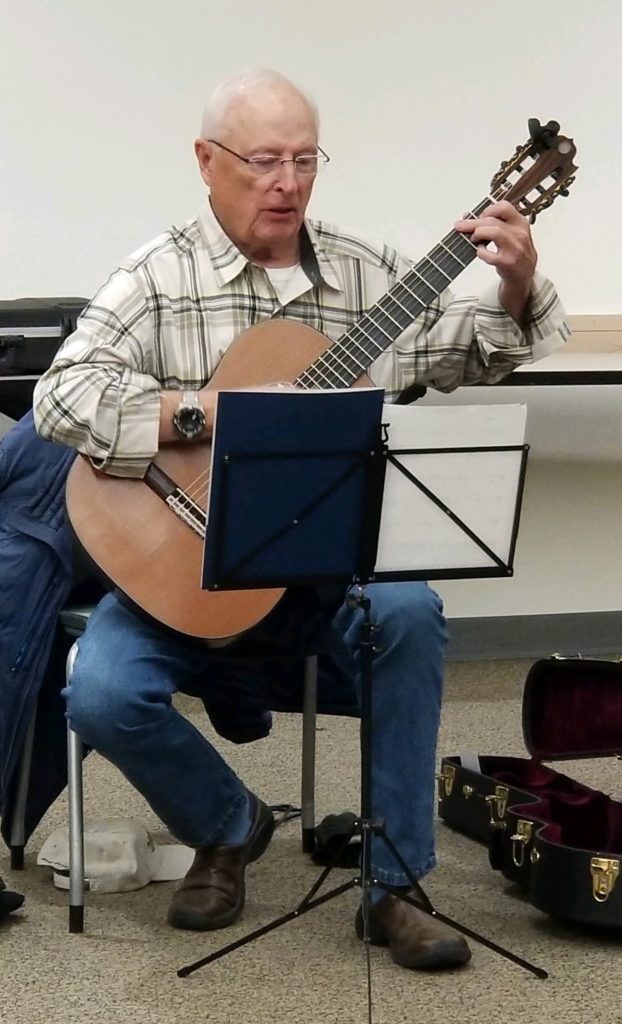 Russ Williams started us out with Walzer, by Nikita Koshku.
Remy Abeyta/Keith Blaney, Autumn Leaves, Joseph Kosma & Johny Mercer.
Rich Ryan, 'Cinnamon Girl', Neil Young.
Steve Gilmore, 'Sleep With One Eye Open', Lester Flatt.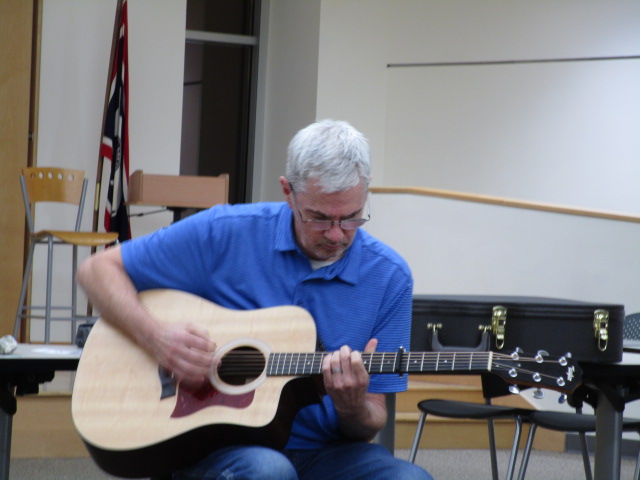 David Norby, 'Brandy (You're a Fine Girl)', Looking Glass.
Russ Williams, 'When First Into This Country', unknown.
Remy Abeyta, 'Sone Contigo (I Dream of You)', original. (there needs to be a squiggle over the 'n', and an accent on the 'e' of Sone, but I don't know how to make that happen)
Keith, 'Miss Celie's Blues', Quincy Jones and others.
Rich Ryan, 'Still, You Turn Me On', Greg Lake.
Steve, 'All My Life', Pat Donohue.
David, 'Who Will Sing Me Lullabyes', Kate Rusby.
Russ Williams, 'Canción Triste', Farinae.
Remy Abeyta, 'It's Been A Long, Long Time', Jules/Styne.
Keith, 'City of New Orleans', Steve Goodman.
Rich, 'Blues Etude', Keb Mo.
Steve, 'How Long Have I Been Waiting For You?', Jonathan Edwards.
David, 'Viva la Vida', Coldplay (Chris Martin)
Russ, 'Don't It Make My Brown Eyes Blue', Crystal Gale.