Our meeting on the 4th was well attended, with one noticeable exception; Steve Gilmore was off having a grand baby!  Bridger Augustus Gilmore was born December 2nd.  We heard he can already Travis pick, and cries when he sees a banjo player, so he's off to a good start.  Steve is recovering nicely.  An Honorable Mention goes out to Stacey and Martin, parents of young Bridger.  Best of health to all.
This is Jason, who heard a song, decided he liked it, listened to it a million times, learned it, then presented it at the meeting.  All this happened on the same day.  We had a couple people apologizing for not having Christmas tunes to offer (Jason was one of these apologetic types)  All I can say is don't be silly, the diversity is what makes us tick, what makes us unique, what makes us CHEYENNE Guitar Society.
Pete came up from Ft. Collins,  always a treat to see and hear Pete!  Remy brought his 'music machine' which consists of Remy, a Gibson guitar, a Fender Blues Jr., and a backing track in which Remy laid down all the different instruments.  He makes it look easy, but it is tricky to pull off as smoothly as he does.  
We had collaboration all around the room, many of them involving Rick Memmel on both guitar and bass.  Here's Bob Fontaine teaming up with Ed Heffern; we didn't even know Bob played his fingernails (there's a harp hiding in there somewhere)   
Edith brought cookies, I think somebody even ate the tin.  Group song was Jingle Bells, and trust me, we jangled all the way!
PLAYLIST    i think
Edith Cook and Russ Williams   In the Hall of the Mountain King, by Edvard Grieg
Randy Busler, A Boy Named Sue,  by Johnie Cash
Pete Piotrowski, Rest Ye Merry Gentlemen, traditional
Rich Ryan, You're a Mean One, Mr. Grinch,  ???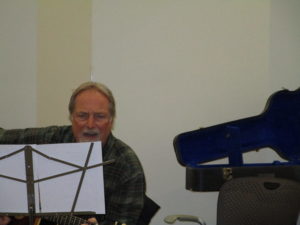 Ed Heffern and Bob Fontaine, Jingle Bell Rock, Bobby Helms
Rick Memmel and Ed Heffern, Noel (Christmas Dinner) by Paul Stookey
Rick Memmel and Ernie Brazzale, Please Come Home for Christmas, by Brown
Rick, Jeannie White, Keith Blaney, and Nancy McKenzie, I Want a Hippopotamus for Christmas, by Galya Peevey
Keith Blaney,  The Christmas Song, by M. Torme and G. Wells
Jeannie White, Mary Did You Know?, by Mark Lowry and Buddy Greene
Gary Krause with Nancy McKenzie, It's Christmas, original by Gary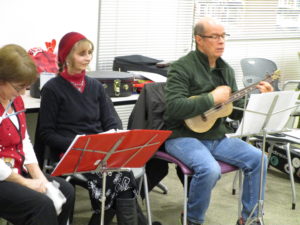 Justin Johnson, The Fork, an original tune.
Earl Janack, The Streets of Laredo METV theme song, ???
Remy Abeyta, Have Yourself a Merry Little Christmas, by James Pierpont
Edith Cook, Vals/Piece Juhine by Calatayud/Papanini
Russ Williams, Let It Snow, Let It Snow, by Cahn & Styne
Pete Piotrowski, The Twister (Floyd's Twister), by Dan Lebowitz
Rich Ryan, Tennessee Christmas, by Gary Chapman/Amy Grant
Bob Fontaine & Ed Heffern, Rudolph the Red Nosed Reindeer, traditional
Ernie Brazzale, Away in A Manger, traditional
Jeannie, Nancy, Rick and Keith, Come and See What's Happening in the Barn, by The Gaither Vocal Band
Keith Blaney, Merry Christmas From the Family, by Robert Earl Keene
Jeannie, Rick, Nancy, and Keith, LeRoy the Redneck Reindeer, by Joe Diffe
Justin Johnson, Feathered Indians, by Tyler Childers
Earl Janack, Can't Wrap My Head Around It, original
Remy Abeyta, Silent Night, Franz Gruber
Also joining us were Bill Bailey, the Floyd Turner, Judy Heffern, and Cathy Memmel.