Our November 7th meeting was held at Justin and Kristy's new place, up on the north side of town. Nice venue that was perfect for our crowd, along with fresh baked treats. Thanks Kristy, Kathy, and Nico!

Welcome to Tyler and Kelsie Brown, friends and neighbors of the Johnson's. Tyler played some bluegrass tunes with some style! Kelsie brought her mandolin, but was shy at first about playing in public. She finally did, and did a great job of it as well! It's really tough to play solo in front of other pickers; I've got mad respect for anyone willing to brave it.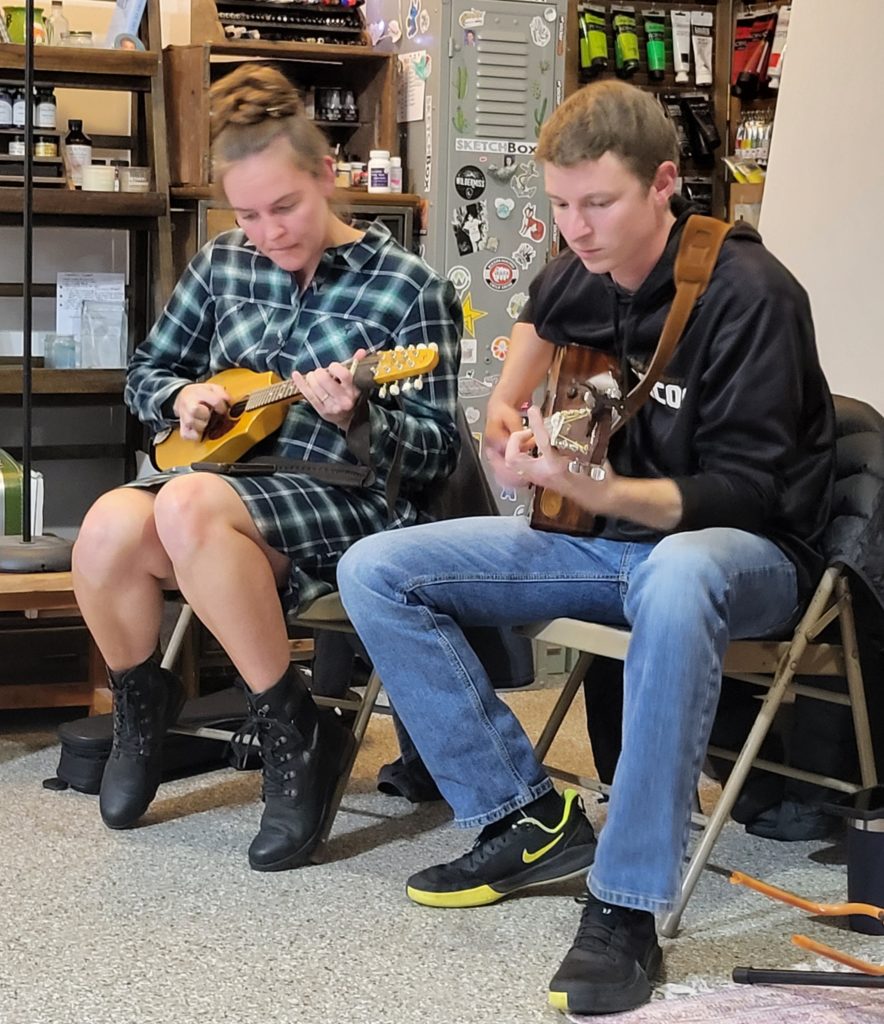 Meeting at the Johnson's is about the only time we get to hear them sing and play. We also got to meet Kathy, Kristy's mom. Nico not only joined us for the whole meeting, he also helped everyone bring in their gear. He'll be running a valet service and park our cars once he puts on a few more inches.
We did a loop around the room, then took a snack break. On the second lap we all joined Ernie on 'Minnie the Moocher' for an impromptu group song. Then Nancy and Keith had everybody sing along on 'Hey Good Lookin'. Fun night! Photo credits go to Russ, Nancy, and Rich. Also joining us tonight was Maria Means. Oh, Nico wants to remind you, NOT COEN (his brother). Nora had a rough day and had already sacked out for the evening.
Events
On Friday, November 17th, High Plains Tradition will give a concert at the Surbrugg/Prentice Auditorium on the LCCC campus. Concert starts at 7:30, tickets are $20 at the door. Steve Gilmore plays guitar for this international bluegrass group… you know Steve, right? They put on a great show, so get out there this Friday night if you can.
Just a reminder; dues are $25 a year, so next month is a good opportunity to pony up for 2024. Sheesh, this year went fast…
Playlist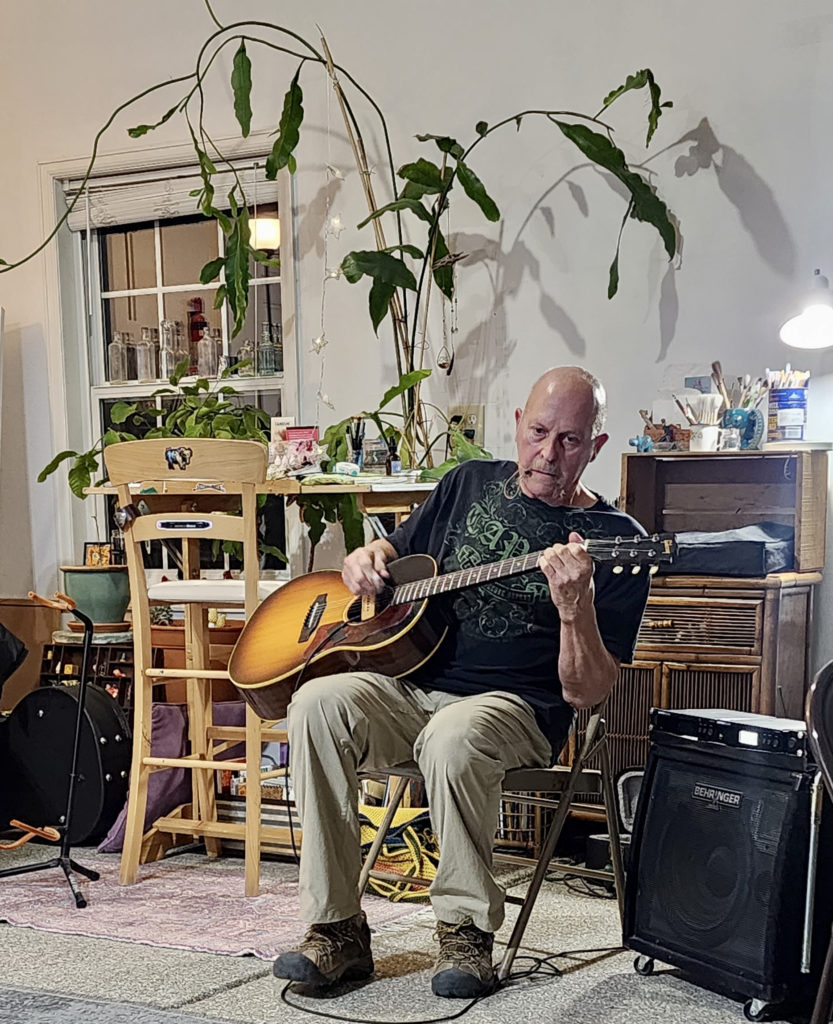 Ernie Brazzale, 'Sleepy Time Down South', Clarence Muse, Leon & Otis René. 1931.
Tyler Brown, 'The Wind Beneath My Wings', Jeff Silbar/Larry Henley. Lee Greenwood's version.
Justin & Kristy Johnson, 'Dear August', Noan Cyrus.
Russ Williams, 'Miami', Gerard Montrevil.
Keith Blaney & Nancy McKenzie, 'Green Stamps', Harvey Geller lyrics.
Ken Frederick, 'Manor Lane', original.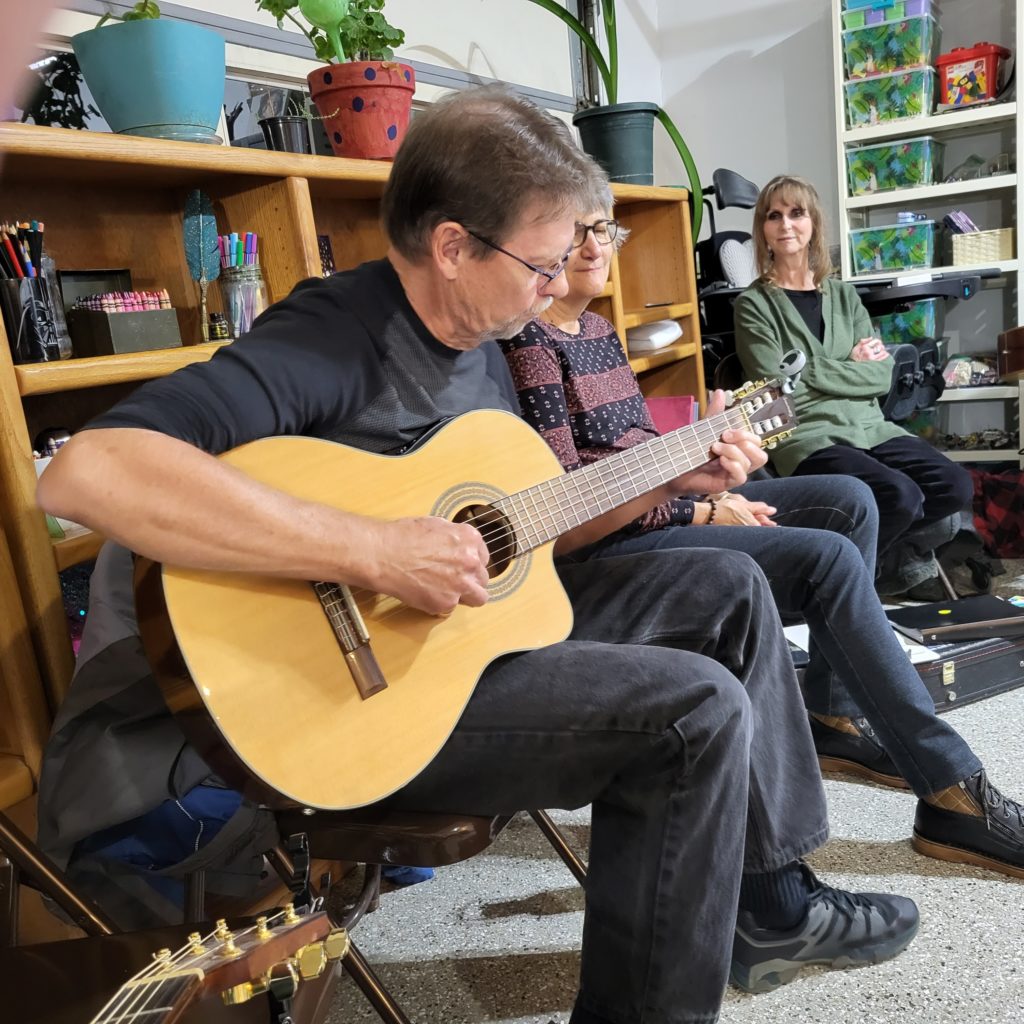 Rich Ryan, 'My Father's Eyes', Eric Clapton.
Ernie, 'Minnie the Moocher', Cab Calloway.
Tyler and Kelsie, 'Freight Train', Elizabeth Cotten.
Justin & Kristy, 'Golden Embers', Mandolin Orange/Watch House.
Russ Williams, 'Prelude to Musigue De Salon', Iznaola.
Nancy & Keith, 'Hey Good Lookin', Hank Williams.
Ken, '420', original.
Rich Ryan, 'In My Life', Beatles.
Ernie, 'Masquerade', Leon Russell.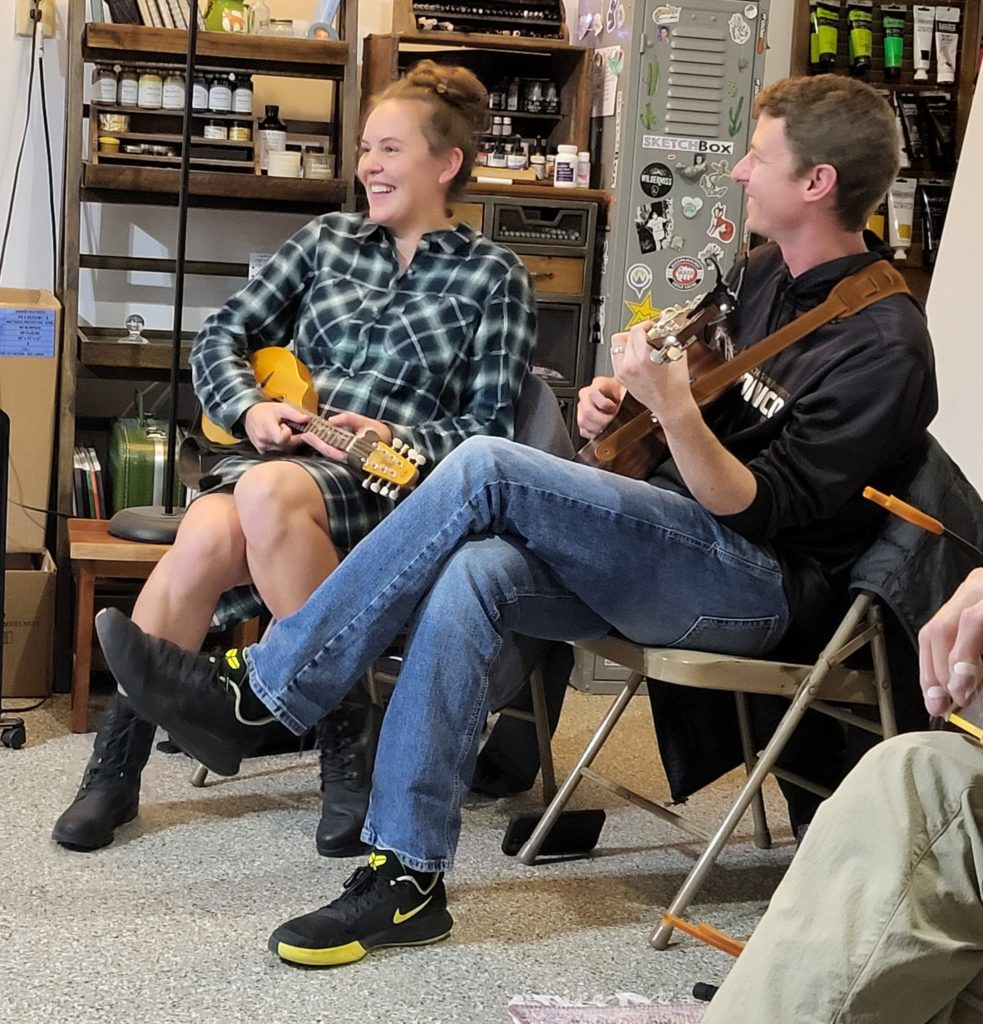 Tyler, 'Just Load the Wagon', Junior Sisk.
Justin, 'Love', Koe Wetzel.
Keith, 'Fifty Cents', traditional.
Ken, 'Scorpius 300', original.
Rich, 'Never Going Back Again', Lindsay Buckingham.