We were Zooming again in May, with the Covid lockdown still in place, thanks to Melinda Brazzale hosting us on her account. Some of us struggle with technology, while some of us eat it up. Turns out I am one of the former types. I joined the meeting as the Invisible Man (no video) then about twenty seconds into my first offering, my feed went quite dead and bounced me out all together. I felt like a contestant on the Gong Show.
Luckily, Rick picked up the ball, and the rest of the meeting was well documented. Also, we had more photos than usual, from many sources, which is pretty cool.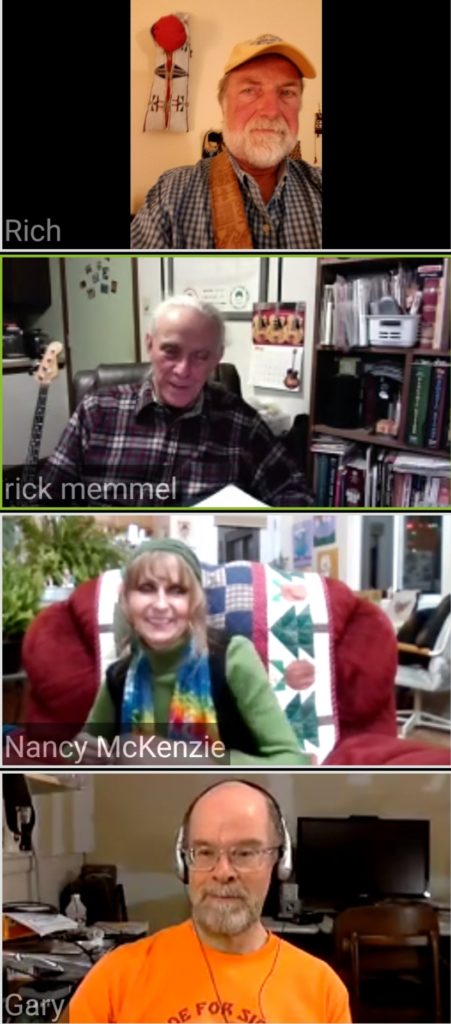 We also had a guest from back east (New York maybe), Rick's brother Ray Memmel. Twins run in this family, and while this isn't a recent photo, it's a good one all the same…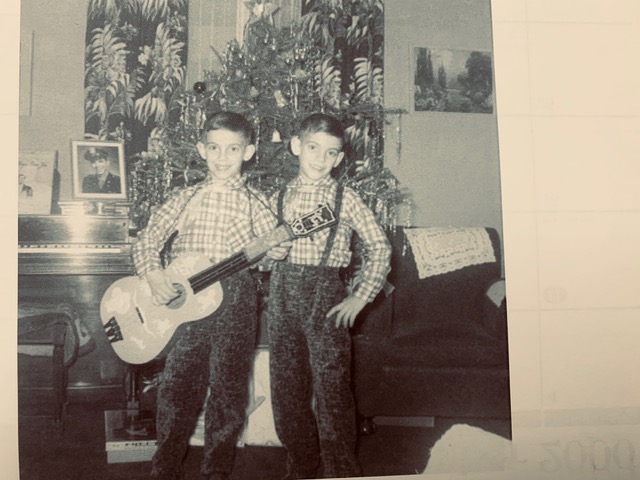 Ernie tried to send us over to Facebook for a tune, but some of us non-technical types were afraid we'd get lost in cyberspace and wouldn't be able to get back. I think his backing track was a big band from the 50's.
Russ and Steve joined the meeting from the same location; they had been goofing off that day, getting their flies wet.
Rick was running the meeting, and took a break between 'laps' for a chat session. I heard that didn't exactly go to plan, but I was long gone by then so it's just hearsay… The other fun thing to mention is Rich's audience comment cards. While one person is performing, it's best that everyone else mute their audio feed. So instead of applause, Rich has made an assortment of cards; sometimes he even gets them right side up!
Playlist for May 2020
Before I get rolling on this, let's take a minute to thank Rick for the work he put into it. We're lucky to get just the song title from the performers, but you'll see the info presented is very complete this month. That took some serious effort on Rick's part. Thanks buddy!
Nancy McKenzie started us off with 'In the Pines', a traditional tune.
Gary Krause, 'Is It Wise', an original tune.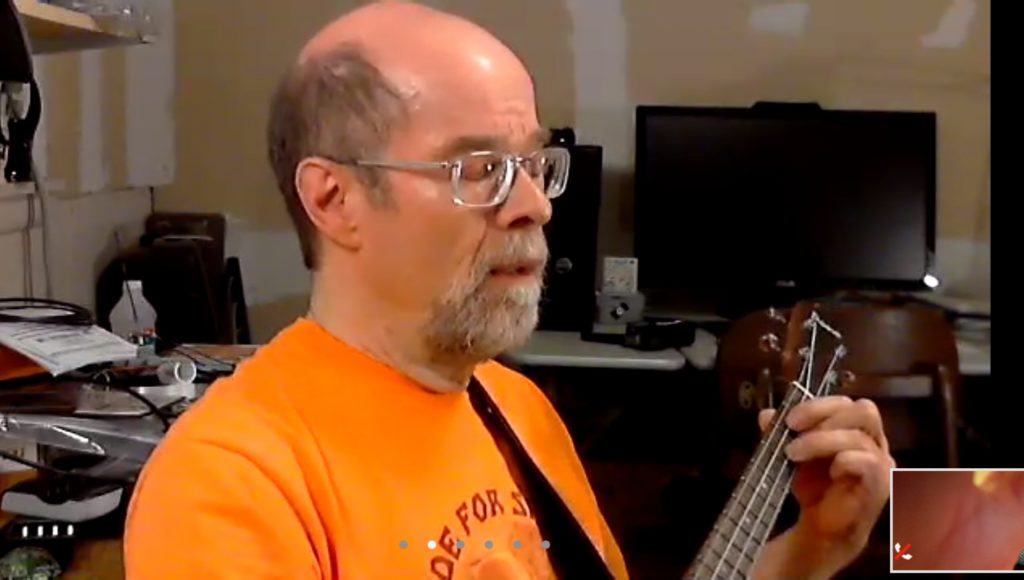 Ernie Brazzale, 'Sleepy Time Down South', Clarence Muse, Otis Rene, Leon Rene (1930)
Tom Fuller, 'Kansas City Blues', by Ernest Tubb.
Jeanie White, 'Oh Virus Leave Us Be', parody of 'Blues Stay Away From Me', by Don Gibson
Ed Heffern, 'Born Under a Wandering Star', Lerner and Lowe, from Paint Your Wagon, sung by Lee Marvin
Ken Frederick, 'Strawberry Moon', original
Edith Cook, 'Aria of Orpheus', C.W. Gluck
Rich Ryan, 'Everything's Gonna Be Alright', Bob Marley
Keith Blaney, 'Wayfaring Stranger', Isaac Niswander (1858)
Rick Memmel, 'Honey Don't', The Beatles
Russ Williams, 'Minuet in A', Agustin Barrios
Steve Gilmore, 'Good Morning, Mr. Time Clock', Peter Rowan.
Nancy McKenzie, 'Beneath the Willows', Bradley Kincaid
Ernie Brazzale, 'American Patrol', F.W. Meacham (1885)
Gary Krause, 'Sing It In', original
Jeanie White, 'This Town', Niall Horan
Ken Frederick, 'Dad Gum It', original
Ed Heffern, 'They Call the Wind Maria', Lerner and Lowe, sung by Harve Presnel in Paint Your Wagon.
Edith Cook, 'Spanish Folk Song', traditional
Rich Ryan, 'Blues Study', Keb Mo
Steve Gilmore, 'Them Hors D'doevrers', Mason Williams (1964)
Also joining us were Steve Borin, Ray Memmel, Melinda Brazzale, Larry White, Judy Heffern, and Cathy Memmel.
Photo and screenshot credits this month go to Rich Ryan, Rick Memmel, and Steve Gilmore. Thanks to everyone that helped put this together!!!