As they used to say on Monty Python's Flying Circus, "And now for something completely different"…

We met on September 1st at the North Pavilon in Lion's Park. Rich figured since there was a grill just outside the shelter, why not Shanghai someone to fry up some burgers and brats? So that's what Steve and Rich put together, a very nice picnic on a most pleasant night.
There was electricity at one end of the enclosure, and we were told, lights! A few chairs and stools were hauled in, but most everyone was happy just to sit at the picnic tables to play their tunes. It was a very relaxed atmosphere with people milling around, getting food and such. It didn't seem quite as 'formal' as one of our normal meetings, where we try to get around the circle twice. There was no circle, no order to speak of, and for some folks this made playing much easier.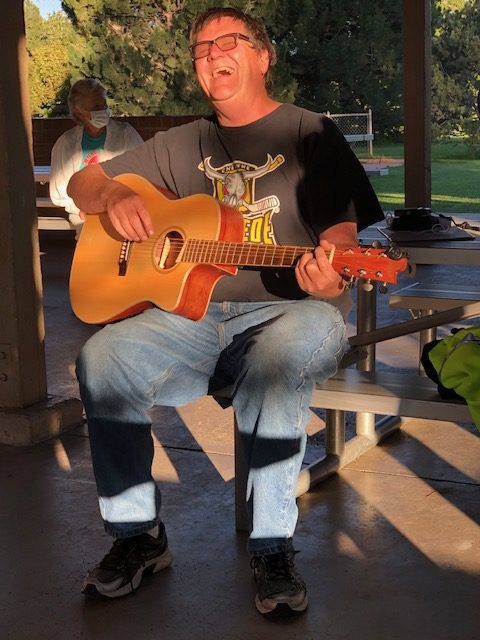 Welcome to Hailey Ellingham, joining us for the first time, and Ron Labrecque, who hasn't visited us in quite some time. Remy brought a big box of music books once owned by Don Williams, inviting everyone to help themselves. Free food, free literature, good music, all on a most pleasant evening. Almost perfect.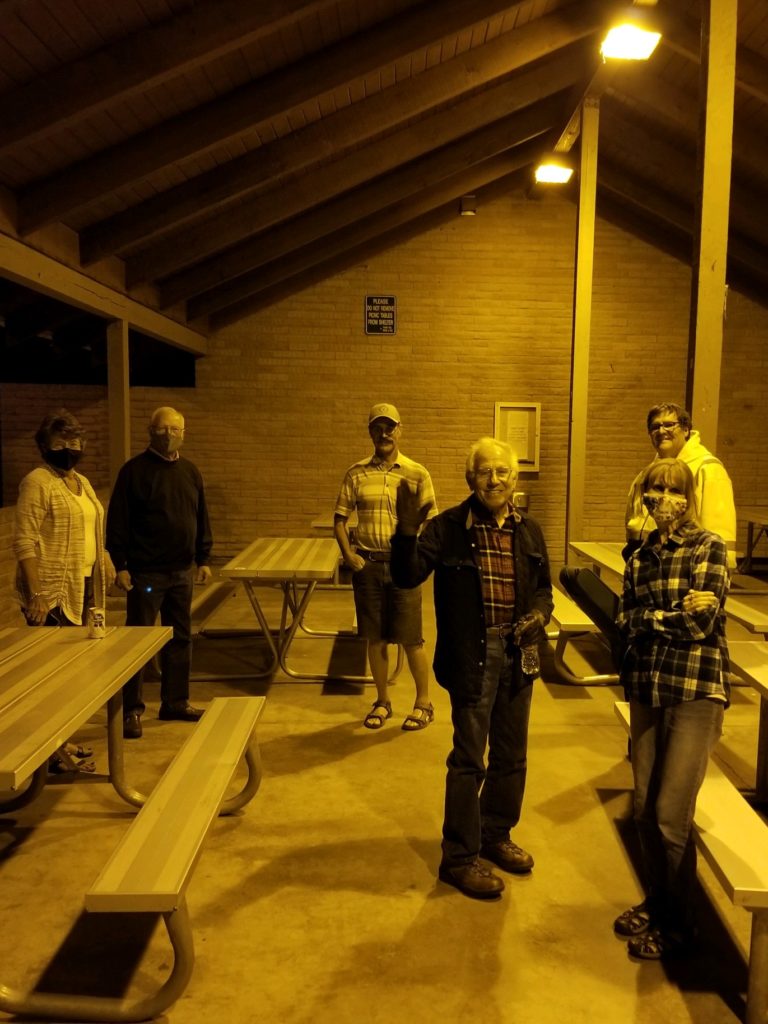 The sun slipped away on us. We looked high and low for a light switch, no luck. They must be on a sensor! Nope, it got dark. Turns out they were on a timer, set for earlier in the summer when the days were longer. The lights finally winked on just as we were making our last pass through the pavilion for lost cords and a final trash round up. Oh well, it was still a very pleasant evening, and with the extras we enjoyed, a real treat.
Playlist for September 2020
David Norby, Ernie Brazzale, and Keith Blaney provided some dinner music while everyone was chowing down but before the playlist came out.
Remy Abeyta, 'Somewhere Over the Rainbow', Harold Arlen.
Gary Krause, 'Smile A Little Smile', Tony Macaulay, Jeff Stephens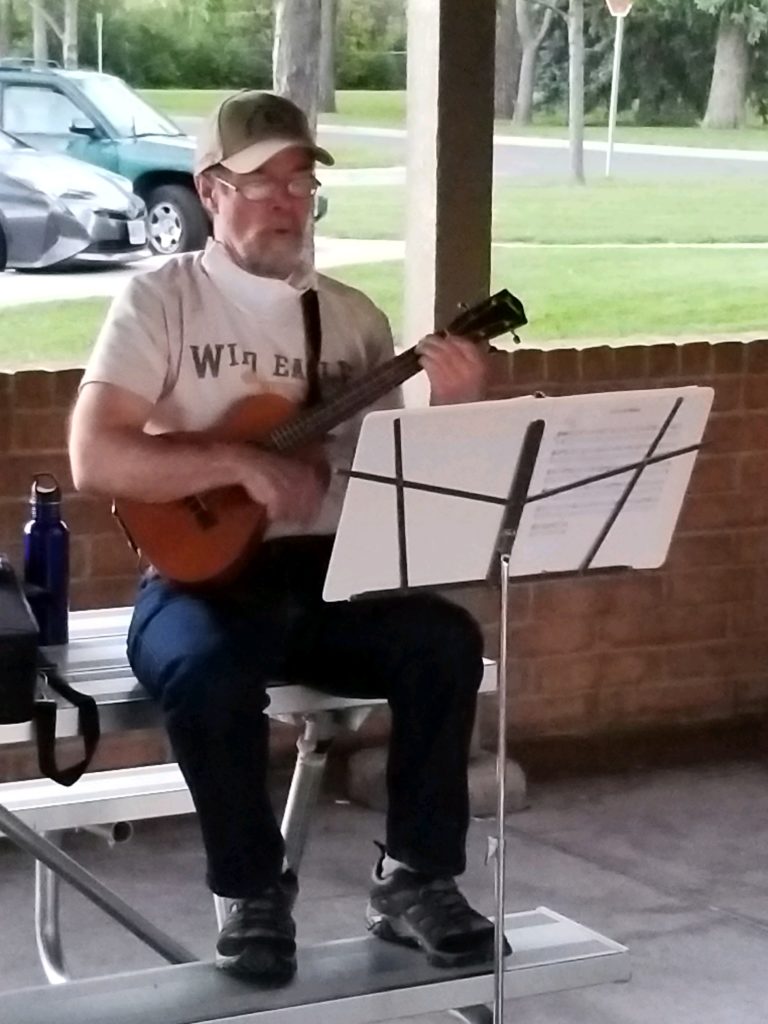 Rick Memmel, 'Run For Your Life', the Beatles.
Edith Cook, 'Etude in B Minor', F. Noad.
Russ Williams, 'Study #6', Carcassi.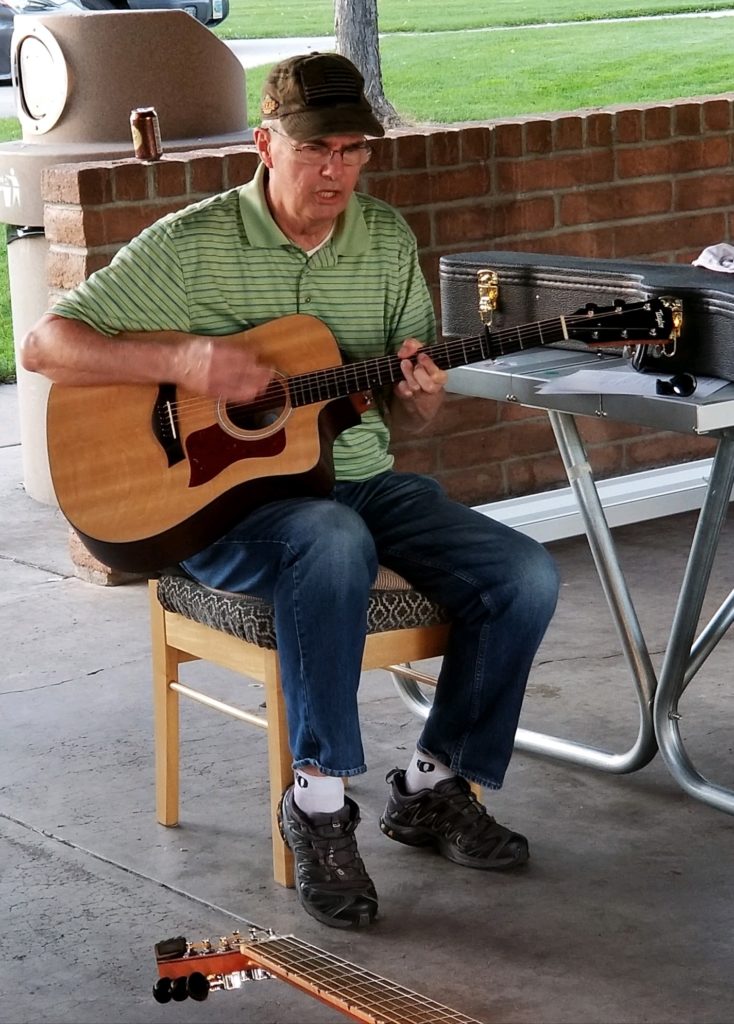 David Norby, 'Love Train', The O'Jays.
Ken Frederick, '420', original.
Edith Cook, 'Muss i denn', German folksong.
Steve Gilmore, 'Paint the Town', Carter Stanley.
Rich Ryan, 'Sweet Baby James', James Taylor.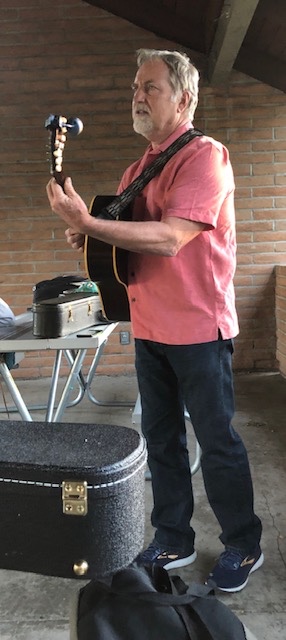 Remy Abeyta, 'How Great Thou Art', Carl Boberg.
Nancy McKenzie/Keith Blaney, 'Dooley', M.Jayne/R.Dillard.
Ernie Brazzale, 'Minnie the Moocher', Cab Calloway.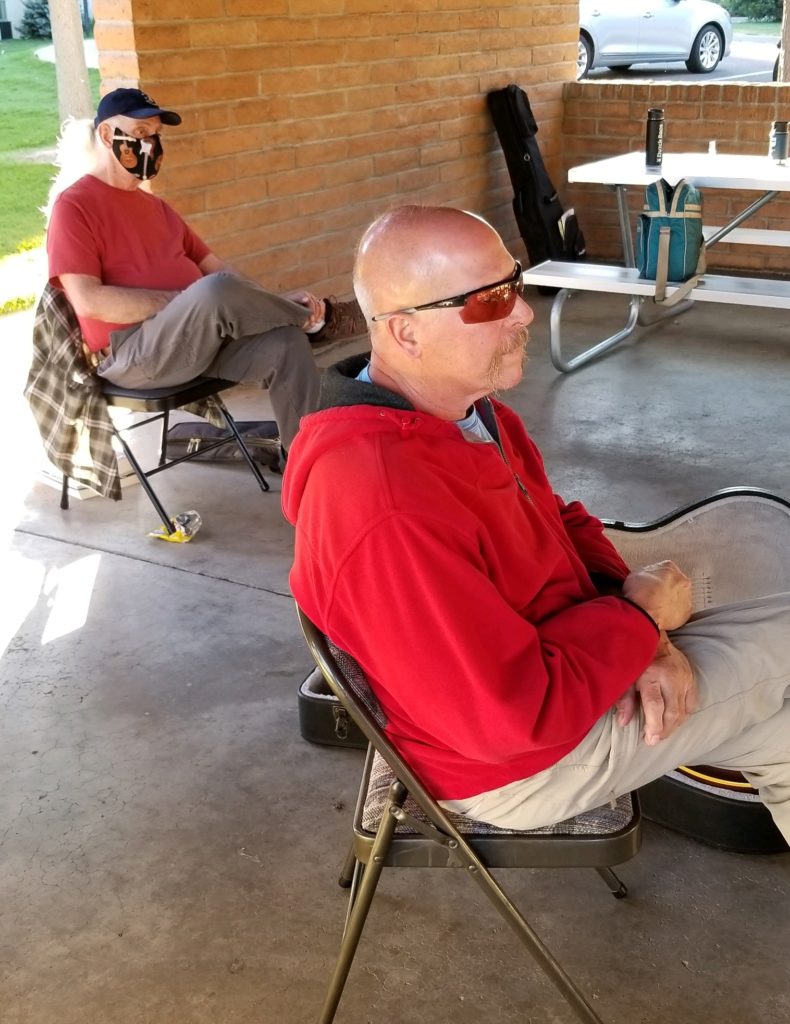 Keith Blaney, 'Seymour and Irmagard', original.
Gary Krause, 'Change', original.
David Norby, 'Walking In Memphis', Marc Cohn
Russ Williams, 'Prelude from Suite No. 2', Brouwer.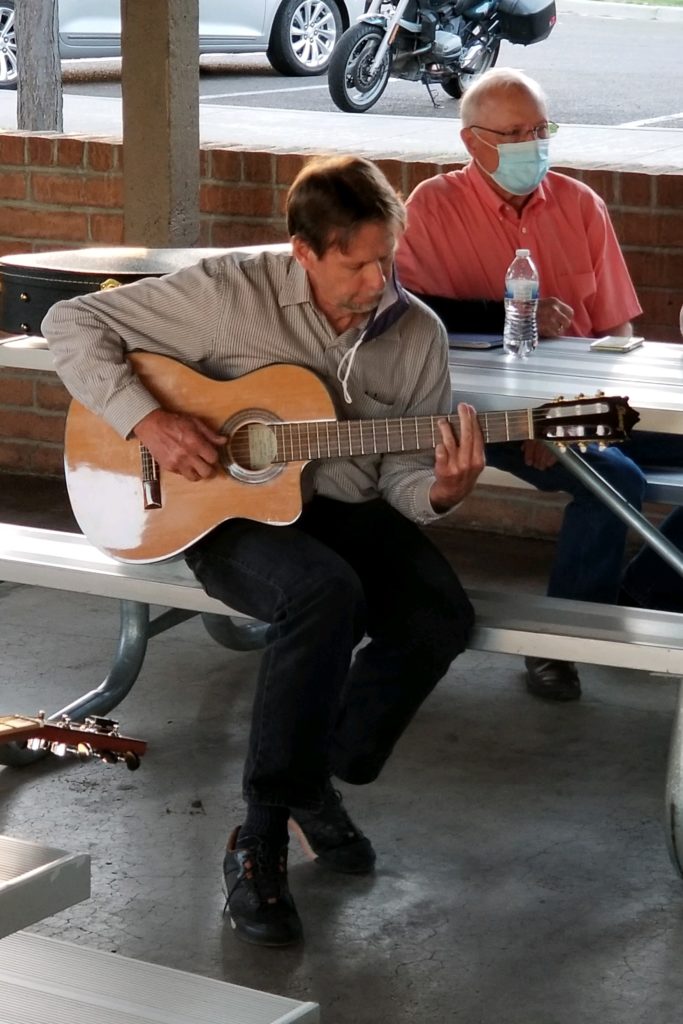 Ken Frederick, 'Holiday #19', original.
Steve Gilmore, 'Sweet Allis Chalmers', Jimmie Hadley.
Nancy McKenzie/Keith Blaney, 'Whiskey 'Fore Breakfast', Canadian fiddle tune.
Rich Ryan, 'Love the One You're With', Steven Stills.
Edith Cook, 'Laquime', F. Tarnya. (it got too dark to write, so this might be erroneous)
Also joining us; Ron Labrecque, Hailey Ellingham, Barb Williams, and Brian Andreas.