For the record, let's talk about the circumstances that lead to this rather unique meeting that took place on April 7th. This country, as well as the rest of the world, is trying to cope with a pandemic caused by the coronavirus, or COVID19. The rule of the day is to avoid contact with your fellow humans as much as possible. Just about everything is shut down while we all isolate ourselves from one another. The library shut down a couple weeks ago, and of course, has cancelled all meetings at least through May.
Not to name names, but our mandolin player (of questionable height and character) suggested we might be able to meet online.  Nancy (oops, it slipped out anyway)  wasn't sure how to do it, so I put the question to our general membership when notifying them of the physical meeting's cancellation. Up stepped Melinda Brazzale, offering to host the meeting on her Zoom account.  We held the meeting on our normal first Tuesday at the normal time.  Ironically, we finished exactly at the same time the library would have been throwing us out, at 8:50pm!
So what happened in between, you ask?  Let the lies begin!  I've gotta tell ya, I'm really pleased about this golden opportunity to gasbag about some new material, too.  It took us a bit to get used to the format, some of us never quite got there, either…  We had folks show up from Wheatland to Denver, tho' it did take Martin a little longer to get here, Denver being so far and all.  We made him play an extra song as punishment, which delighted everybody.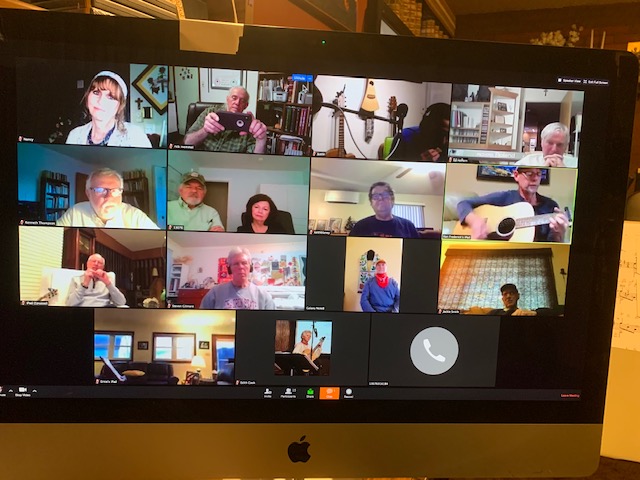 As for Zoom, it left a lot to be desired as a music platform.  Mind you, this is coming from a man whose VCR would still be blinking 12:00 if I had a VCR, but the whole thing seemed rather primative for this day and age.  The video lagged, and the audio was horrid.  It is designed for meetings, for speech; anything else it deems as noise and tries to eliminate it.  So the sound was clipped, high notes were missing completely.  A couple of the people sounded like a weak radio station fading in and out.  In other words, they have much room for improvement, to say the least.
In the plus column, we had 17 participants.  Some of us took advantage of not having to haul heavy equipment.  We had tunes by Ernie on an 1860's pump organ, Ed did a couple on his keyboard, and yours truly dragged out a bass guitar and ran it through a homemade amp.  Also joining us was Kenneth Thompson, from Ft. Collins.  He presides over the FoCo guitar group, and said he thinks he'll give this a go for his cohorts.  Good luck, Kenneth, and you're welcome back any time!
We also learned a bit more about our president, Rich Ryan, also known as GalaxyNote8.  His alter-ego showed up as well,  The Green Fone Icon.  Unlike Superman and Clark Kent, both of Rich's identities were at the meeting at the same time.  It appears GFI's super power was stealing the spotlight at random throughout the meeting .  Pretty scary stuff, Mr. Whoever You Are.
Welcome also to Jackie Smith, Steve Borin, Nancy McKenzie, Ben and Margene Zavorka (aka 13076) and of course, Melinda.  Thank you so much for inviting us into your cyberspace.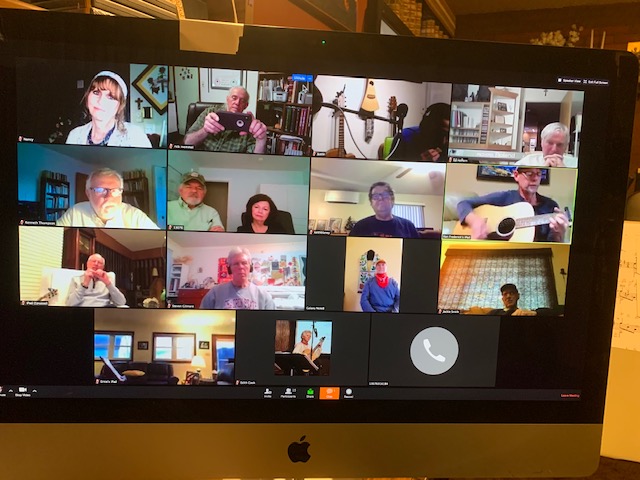 Playlist for April 2020
Note: Wherever you see (?) means the information was not provided, was not heard properly, or a best guess at what belongs there. Participants are encouraged to contact me (kdawg307@gmail.com) to erase those Q's with the correct information.
Justin Johnson started us out with an original tune, 'No One' (?)
Ed Heffern (on keyboard), 'I'm Looking Over a Four Leaf Clover, by (?)
Keith Blaney (on bass) 'Sunny', by Bobby Hebb.
Ken Frederick, 'Here Comes the Sun', George Harrison.
Russ Williams, 'Maria Maro', Antonio Maso
Steve Gilmore, 'The Village Road', Matt Flinner
Ernie Brazzale (on pump organ) 'Quarantine', a parody of 'Misty'.
Edith Cook, 'Minuet in C', Fernando Saur.
Rich Ryan, 'Never Going Back Again' (?) Lindsay Buckingham (?) Rich, our man of mystery…
Martin Gilmore, 'Something he Wrote in Egypt' (?), original.
Rick Memmel (on ukelele) 'Somewhere Over the Rainbow, (?)
Justin Johnson, 'Cover Me Up', Jason Ismal
Ed Heffern (on keyboard) 'Your Song', Elton John
Keith Blaney, 'Ain't Misbehavin', Fats Waller
Ken Frederick, 'Blackbird', Paul McCartney
Russ Williams, 'Soladad', Alfonzo Montez
Steve Gilmore, 'Irish Fiddle Tune' (?) traditional (?)
Ernie Brazzale (on pump organ) (?) by (?)
Edith Cook, 'Spanish Folk Song' (?) traditional (?)
Rich Ryan, 'COVID ONE NINE' a parody of 'Sweet Caroline' by Neil Diamond. new words by GalaxyNote8.
Martin Gilmore, 'Teenage Lover' (?) by John Prine, who sadly passed away today from the virus.
Martin Gilmore, completing his penalty lap, with 'Any Old Time' (?) by Jimmy Rodgers.
Then Ernie played us out on the pump organ as we exited the meeting.