Our meeting was held Feb 1st in the library's Cottonwood Room. Sort of like the 'twelve man' in football, where the crowd is a factor, Mother Nature was our 'sixth man' this month, with quite a snowstorm blowing that kept the reasonable among us at home.
Justin has a new guitar! It's a Taylor 414 (I think he said) in tobacco burst. We all took a lick on it, pretty nice box. He played the frets off his last guitar, so it will need some TLC while he wears this one out.
Rick brought not one but two group songs. Good thing too, or we'd have been done by 8:00. Meanwhile, Rich brought not one but ZERO guitars. Didn't stop him from sharing some of his tunes with us though. His air guitar playing was flawless.
Just a few days before, the library held its guitar contest. This year they added a new category, 'Other Stringed Instruments But Not Piano'. It was hotly contested, with violins, ukuleles, electric bass, cellos, and even a banjo. Really enjoyable and eclectic performances by all the players. I think they will be keeping it; I certainly hope so.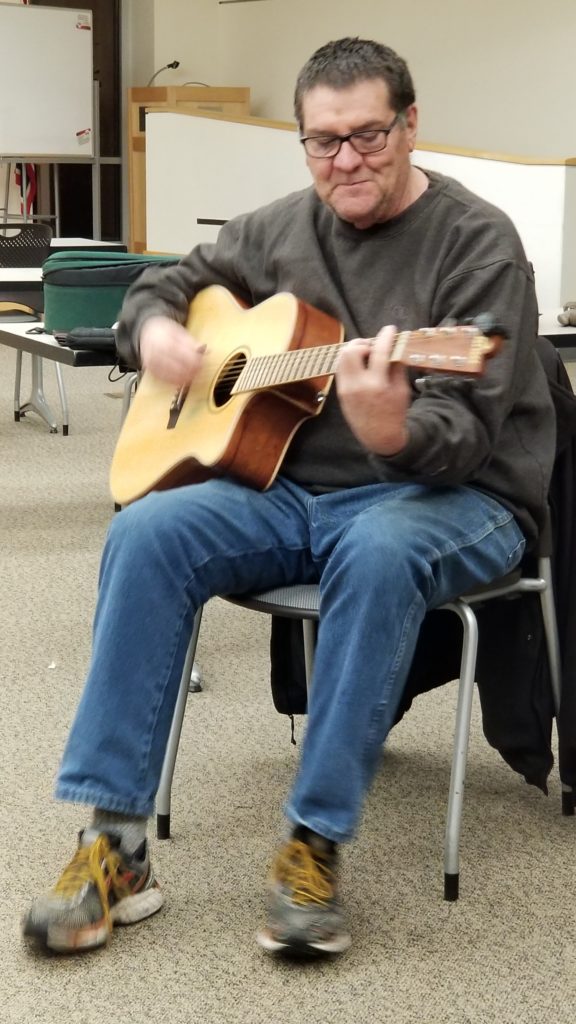 Playlist February 2022
Keith Blaney, 'When I'm 64', Lennon/McCartney.
Steve Gilmore, 'Hold To A Dream', Tim O'Brien.
Rick Memmel, 'Happy Birthday', traditional.
Rich Ryan, 'One Tin Soldier', Coven.
Keith, 'Yesterday', Lennon/McCartney.
Group song, 'As Tears Go By', Rolling Stones.
Steve, 'Hesitation Blues', Gillham & Smith.
Justin, 'Don't Know Why', Nora Jones.
Rich, 'Mr. Bojangles', Jerry Jeff Walker.
Group, 'Heart of Gold', Neil Young.
Steve, 'Walk Away Renae', Left Bank.
Keith, 'Mother Nature's Son', George Harrison.
Justin, 'Free', Zac Brown.
most of the photos this month courtesy of Rich Ryan.